This is an archived article and the information in the article may be outdated. Please look at the time stamp on the story to see when it was last updated.
ELMO, Mo. – Friends and strangers alike have stepped up to help a family whose nine-month-old baby boy was killed Monday morning when his five-year-old brother got ahold of a gun and accidentally shot him in the head.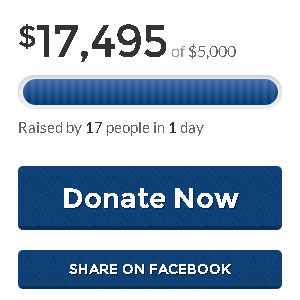 On Wednesday morning a GoFundMe account set up for Corbin Wiederholt's family had raised almost $17,500. The goal to help the family was $5,000.
Lexis Wiederholt, Corbin's mother, left a comment on the fundraising page: "Thank you all for your help & support during our family's difficult time. We love you all and will be forever grateful to have you. Thank you."
Triple S Enterprises Inc., where Corbin's father reportedly works, donated $15,000.
"From all of your Friends, Family, Co-workers, Suppliers, local businesses, & customers here at Triple S Enterprises. Your Triple S family is here for you and you are in all of our thoughts & prayers," they commented on the donation page.
To donate, click here for the account set up for the Wiederholts.
According to the Nodaway County Sheriff's Office, the nine-month-old baby boy was shot shortly before nine o'clock Monday morning by his five-year-old brother at their residence, located at 101 S. Scott in Elmo, Missouri, which is just south of the Iowa border.
Initially, according to authorities, the mother of the two children said her five-year-old son shot her infant in the head with a paintball gun. But after an ambulance and law enforcement were dispatched to the location, it was determined the nine-month-old had been shot in the head with a .22 caliber magnum revolver.
Nodaway County Sheriff, Darren White, said the loaded gun had been kept on a shelf which was built into the headboard of the master bed. The infant was in a crib in that room, and law enforcement found the gun nearby.
The baby boy was taken by a Life Net Air Ambulance to Children's Mercy Hospital in Kansas City, where he was pronounced dead from his injuries.
A next door neighbor and friend of the family, Kathy Armentrout, said the woman was home alone with her four boys at the time of the shooting.
"They're a very good family and this was a tragedy. It's a sad deal. I just hope everybody prays for them," she said.
Armentrout says the four little boys, who are brothers, live in the house, including the baby who was killed. She grabbed the three children who she says are ages five, three and one-and-a-half and brought them to her house.
"They're not very old so they have no clue what was happening, you know," said Arementrout.
The Nodaway County Prosecutor has not announced if any charges will be filed.
Earlier report: