This is an archived article and the information in the article may be outdated. Please look at the time stamp on the story to see when it was last updated.
OVERLAND PARK, Kan. — In a sport known for hard hits, there's often heart as well.
Football players at Shawnee Mission East High School have taken on a new project: raising money to help Toys for Tots, the philanthropic arm of the United States Marine Corps Reserve.
Touchdowns for Tots, as the Lancers entitled their effort, uses pledges and donations — typically a dollar per touchdown scored — from the public at large. The football team plans to spend that money on toys to donate to the Marines.
"I just want to get it started this year," Lancers defensive end P.J. Spencer said.
Spencer, a senior at East High, already has the holidays on his mind, as the driving force behind Touchdowns for Tots.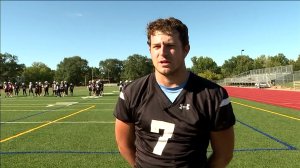 "Kids in our close community are really special, and it's really great for them to have toys that they might not have during the Christmas season. That was a big part of my Christmas, waking up to toys when I was younger," he said.
Active duty Marines at the U.S. Marine Corps installation in Belton, Missouri, are excited to hear of the Lancers' plans to help. One officer commented that it's not uncommon to receive organized donations from civic groups in this fashion, and they're all appreciated.
"We're getting ready to distribute about four thousand toys," U.S. Marine GySgt. Roger Ruiz told FOX4. "Our goal is to provide everybody with a little bit of Christmas on Christmas morning."
Ruiz, active duty supervisor for Toys for Tots in the Kansas City metro, said it might be a challenging year for the nonprofit.
Ruiz said donations are behind pace this year, possibly due to the closure of the Toys R Us retail chain. That big box retailer was a major supporter of the annual toy collection, and its loss makes small fundraisers, such as the one at Shawnee Mission East, twice as important.
"If we were short on toys, we could go out and purchase them from Toys R Us in bulk quantities. It helped us fill the gaps on some of the age groups," Ruiz said.
Toys for Tots current campaign began Oct. 1. Ruiz said donations for older kids, ages 11-15, are particularly sparse this time around. He said Touchdowns for Tots is an awfully kind effort on the Lancers' behalf.
"It shows there are people out there who want to do good things. They try to help their communities," Ruiz said. "That really shows their support to the community and to Toys for Tots and to the Marine Corps as well.
Fundraising efforts have extended to other athletic programs within the school as well. Athletic department leaders at Shawnee Mission East encourage players to get involved in their communities and help others who are in need.
"A lot of times the athletes or sports teams, there's focus on them for what they do on the field. What we try to do is recognize that and give them the opportunity to use their platform for something off the field that's bigger than all of us," Justin Hoover, first-year Lancers coach, said Thursday
"Giving is the most important part of Christmas, I've come to realize. Giving back to those in need really means a lot to all of us on this football team," Spencer added.
If you'd like to contact Toys for Tots in the Kansas City metro, you'll find their contact info here. If you'd like to get involved in Touchdowns for Tots at Shawnee Mission East, you can learn more about that program here.