This is an archived article and the information in the article may be outdated. Please look at the time stamp on the story to see when it was last updated.
KANSAS CITY, Mo. — Ghosts, ghouls, spooks and more — if you want to find something to make you rethink your surroundings, a ghost tour is only a few steps away.
Kansas City established on June 1, 1850 is full of lore and tales about the paranormal. The city took part in the Civil War on October 23, 1864 in the Battle of Westport, with Union soldiers having victory over the Confederacy. Kansas City has a long history with gangsters, political upheaval, the Victorian era, trains, a strong immigrant base, and a sharp rise in wealth for the Midwest. Not far from here are equally as bizarre of places from the haunted hotels in Eureka Springs, Arkansas; the Glore Psychiatric Museum in St. Joseph; and legends about the indigenous peoples who lived here before European settlers took over the land.
Whether these tales are just for fun or have some grounding in science or history, people have claimed to see spooks in the metro. People have said orphan ghosts wander at Belvoir Winery, that Civil War soldiers loom at historic houses, and other apparitions roam about the Kansas City metro — often repeating their last moments.
History of ghost lore and science's inquiry
In folklore, a ghost is the spirit or soul of a dead person or animal that appears among the living. The overwhelming consensus in science is that ghosts don't exist, and the event being witnessed has some real world explanation.
Ghost lore has existed across the globe for millenniums. Scientific explanations for these events have risen over the past couple of centuries with the age of reason and enlightenment.
The physician John Ferriar wrote "An Essay Towards a Theory of Apparitions" in 1813. He found that sightings of ghosts were the result of optical illusions. Later the French physician Alexandre Jacques François Brière de Boismont published "On Hallucinations: Or, the Rational History of Apparitions, Dreams, Ecstasy, Magnetism, and Somnambulism" in 1845. The French physician argued sightings of ghosts were mere hallucinations.
Jumping forward to a more modern age, Benjamin Radford from the Committee for Skeptical Inquiry and author of the 2017 book "Investigating Ghosts: The Scientific Search for Spirits" argued that "ghost hunting is the world's most popular paranormal pursuit" but ghost hunters are far lacking in a clear definition of what is a ghost and proof of its existence. Radford called it "all speculation and guesswork." He writes that it would be "useful and important to distinguish between types of spirits and apparitions. Until then, it's merely a parlor game distracting amateur ghost hunters from the task at hand."
Several academic studies have found that experiences of a haunting are tied to environmental factors, lighting levels, and slight changes in air we might not notice.
There is also the "Stone Tape" theory. It argues if something has enough energy it could end up being recorded into the surroundings, such as rocks, and in particular, limestone. This capturing would be similar to how moments are captured in film and then played back.
Popular Kansas City ghosts and sightings
1. The Belvoir Winery in Liberty was a sweeping lodge in the 1890s. It had several buildings associated with it on a 170-acre plot along Missouri Highway 291.
The Belvoir opened up a nine-room bed and breakfast on the third floor of the main building. Some guests have reported coming across strange unwanted presences and then promptly leaving. If you need a good creepy movie about orphans, check out The Orphanage, a 2007 Spanish film by J.A. Bayona, Guillermo del Toro worked as a producer.
2. Hartman Hardware in Shawnee has also given people goosebumps. The hardware store had a paranormal investigation team come in — one associated with Ghost Stories of Kansas, after the group decided to start a tour of downtown Shawnee. That space was once used as a lodge hall where dances were held.
Aside from Hartman Hardware, within a two-block radius there are stories of a bar lady who likes to cross through the hall of a former salon, a ghost who would mysteriously ring the doorbell of a photo studio, the lingering scent of cigars in a smoke-free business, and sounds of chairs going up and down in the closed old theater.
On another historic note, there are legends about the Quantrill's Raiders. They're most well-known for burning Lawrence to the ground during the Bleeding Kansas period leading up to the Civil War; they did a dry run in Old Shawnee.
3. Hanging out at the Muehlbach Hotel is a ghost known as "The Blue Lady." Described as a blonde in her early 30's, she wears a 1920s-style blue dress with her hair tucked up into a wide-brimmed hat. Some have speculated that she is the ghost of an actress who once played at the Gayety Theater next door, and she is searching the Muehlebach for a lost lover. Her description sounds an awful lot like Daisy Buchanan from the popular Great Gatsby novel.
4. Longview Farm in Lee's Summit was built between 1912 and 1914. Loula Long Combs is said to have treated stray dogs with kindness and spent much of her time with her favorite horse, Revelation. Loula died in 1971 at the age of 90. Students at the nearby Longview Community College have reported hearing ghostly hooves on pavement, and catching glimpses of an unknown woman on horseback.
5. Father Henry David Jardine is said to have unfinished business clearing his name. St. Mary's Episcopal Church is one of the oldest congregations in town — dating back to 1857, before the Civil War. The father helped organize the parish from 1879 to 1886. He also founded two schools and had a hand in the creation of the hospital that would become St. Luke's. Father Jardine's death in St. Louis was ruled out as a suicide. He was not buried in a consecrated ground until he was officially exonerated 35 years later. Today eerie noises heard at the church are attributed to Father Jardine, who some say is trying to tell the truth about his death.
6. A Halloween masquerade ball meant to celebrate the night and lavish up with some treats resulted in the horrific deaths of two coal shovelers. It happened in 1910, and according to the legend, a phantom clanking of pipes is heard at The Elms Hotel & Spa around 1:30a.m. — the exact time of the historic blaze.
7. One of the most horrific moments in Kansas City history has led to a plethora of lore and speculation. The Kansas City Massacre at the Union Station happened on June 17, 1933. The shootout and murder of four law enforcement officers rocked the country. A gang led by Vernon Miller meant to free Frank "Jelly" Nash, but things didn't go as planned: Nash was killed in the gunfire. Nash had a long history in crime from murders to bank robberies. Some say his body was shattered, but his spirit still roams the station.
85 years into the present, local lore looms about Nash's ghost. Some say the ghost repeats his last stretch through the station on his way to the lawmen's car. Some say he is searching for answers as to what went wrong when the gang members went looking for him. People have reported hearing footsteps in the Union Station but not seeing a single person. Maybe the tormented soul still wishes he could be in the bank robbing business.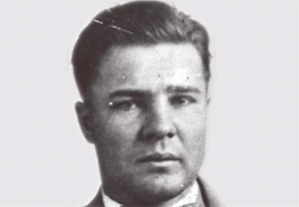 8. Following the Kansas City Massacre, Charles "Pretty Boy" Floyd, one of the gang members involved in the botched shootout, returned to the Armor Hills home of his girlfriend, where he planned his escape. He hid there for a short time before hiding in various spots in the U.S. The house at 6612 Edgevale now has a ghostly reputation, with doors that refuse to stay closed, lights that flicker, and things that go bump in the night in both the attic and the basement.
9. A more recent ghost legend, the Kemper Arena is said to be haunted by the late WWE wrestler, Owen Hart. He died there in 1999. He fell from the ceiling while attempting a stunt. His ghost has been reported to be seen wearing a blue blazer while looking down the top of the arena.
Ghost tours
If you're looking for a nearby ghost tour, here is a list. If ghosts are not really your thing, many of these tours also have historical highlights.
Kansas City Ghost Tours: The ghost tour begins at Fat Matt's Vortex Bar, located at 411 N. 6th Street on historic Strawberry Hill. Fat Cat is said to be haunted. It used to house a funeral home and the crematorium is still in the basement. You'll learn about the history of downtown KCK and visit several haunted locations including a cemetery, a high school, an abandoned church, a Memorial Hall, a fire station, and a theater among many other  businesses. You'll get out at two locations, including Kaw Point. People are encouraged to bring cameras.
Haunted Ghost Tours in Independence: Visitors will tour the 1859 Jail and Marshal's Home to learn about the history of the building and some of the haunts there. Part of the tour is in a covered wagon which takes guests around the Historic Independence Square. Guests will be told several ghost stories at the square. The tour takes approximately two hours. The Haunted Ghost Tours benefit the Jackson County Historical Society.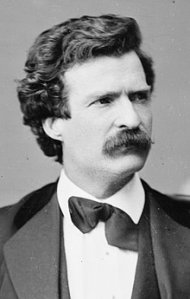 Haunted Hannibal Ghost Tours: The city is winery-driven and close to St. Louis. The 90 minute bus tour goes  through the historic district. Part of the tour looks at Mark Twain's childhood and ghost sightings on Main Street. You'll have the chance to explore the graves of slaves and Civil War soldiers with a paranormal investigation of Old Baptist Cemetery. Tours daily from April through October at 7:00p.m. Tickets can be purchased at the Hannibal History Museum. Kids 10 and under are $7.50 while adults are $15.
Missouri State Penitentiary — Jefferson City: A two hour walking history tour as well as a separate ghost tour at the prison. Guests are encouraged to bring a flashlight and camera. Minimum age of guests is 14. There is also a three hour guided ghost hunt where visitors can engage in a paranormal investigation with detection equipment. The prison was opened in 1836 and held a number of famous prisoners including the assassin of Martin Luther King, Jr. In 1967, Time Magazine called it the bloodiest 47 acres in America. It was closed in 2004.
Pythian Castle Ghost Tour — Springfield, MO
Tour lasts an hour and a half and includes brief history. Photos allowed. $17.04 (includes tax & fee) when purchased online. Tour must have a minimum of 8 to run. The Pythian Home of Missouri, also known as Pythian Castle, was built in 1913 by the Knights of Pythias and later owned by the U.S. Military. It is now privately owned and open to the public by appointment. German and Italian prisoners-of-war were assigned here during World War II for medical treatment and as laborers.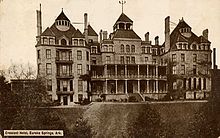 Cresent Hotel Ghost Tour — Eureka Springs, AR: Rumored to be the most haunted hotel in the United States. The Crescent Hotel & Spa is perched high above the Victorian village of Eureka Springs, which is recognized by the National Trust for Historic Preservation. It hosts a regular ghost tour that goes down into the no-longer-in-use morgue. Norman G. Baker used the hotel promoting a cure for cancer in the 1930s. The quack doctor's methods didn't work.
Basin Hotel — Eureka Springs, AR: At the hotel, the Basin Park Ghost Tour  covers the history of gang activity there and explores how to do a paranormal investigation.  The tour gives exclusive access to the rooftop of the hotel and a view of the underground cave where bootleg liquor was stored.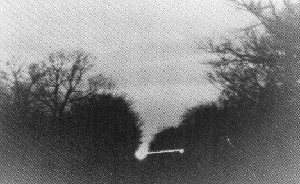 The Spooklight — Joplin, MO: Also called the Hornet Spooklight, Hollis Light, and Joplin Spook Light. It is a light that appears in a small area known locally as the "Devil's Promenade" on the border between southwestern Missouri and northeastern Oklahoma, west of the small town of Hornet, Missouri.
Even though it is named after a small, unincorporated community in Missouri from which it is most commonly reached, the light is usually visible from inside the Oklahoma border looking to the west. The Spooklight is described as a single ball of light or a tight grouping of lights that is said to appear in the area regularly, usually at night. Several legends exist that attempt to describe the origin of the Spooklight. One of the more popular legends involves the ghosts of two young Native American lovers who are searching restlessly for each other.
Ghost Stories at Mid-Continent Public Library branches around the KC metro:
Mon, Oct 15 at 6:30 pm at Riverside Branch
Mon, Oct 22 at 6:30 pm at Grandview Branch
Mon, Oct 29 at 6:30 pm at Oak Grove Branch
Sat, Nov 3 at 11:00 am at Weston Branch
Beginning Paranormal Research for Teens:
Register at any Mid-Continent Public Library branch or online.
Ghost Freakers Ball 2018:
October 27 at the Arvest Bank Theatre at The Midland in Kansas City, MO.
If you are interested in learning more about the paranormal around Kansas City, check out this website with the Kansas City paranormal investigators.