This is an archived article and the information in the article may be outdated. Please look at the time stamp on the story to see when it was last updated.
KANSAS CITY, Mo. -- Tuesday, Jackson County Prosecutor Jean Peters Baker charged Frederick D. Scott with the murder of  John Palmer near the Indian Creek Trail and Steven Gibbons, who was shot and killed near 67th and Troost earlier this month.
The four murders near the Indian Creek Trail have loomed large over the Kansas City area, with many suspecting they were all connected.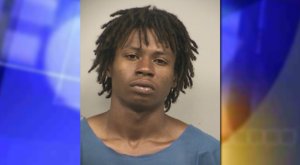 It came as a surprise to many to learn about a fifth homicide victim might be also be tied to the murders. Gibbons, like the others, was a middle-aged white man. He was shot in the back of the head for no apparent reason.
"For somebody to just walk up and shoot you, just the devil."
That "devil," police say, is 22-year-old Frederick Scott, who police believe is the Indian Creek Trail murderer.
It was the murder of Gibbons on August 13 -- not along the trail -- that police say cracked the case.
"He was a person. He had a good heart. He didn't have anything."
The mother of 57-year-old Steven Gibbons said the only thing her son had was his life, which was stolen from him outside of her home near E. 67th and Troost, shot in the back of the head after Scott followed him off of a city bus, according to investigators.
Gibbons spent his career as a chef, but became disabled by a lung disease, his mother said.
"Anything that he thought I wanted him to do, he would do even though some of it wasn't easy for him."
Court records state that it was DNA collected from the scene of Gibbons' murder that links Gibbons' killing to that of John Palmer in August of 2016, for which Scott is also charged. Palmer is the first of four known victims killed along the Indian Creek Trail in the past year.
"I honestly couldn't believe what they were telling me. And the shock of it even yet, it is hard for me to realize that something like that could happen."
Gibbons' mother said through her shock, she is comforted knowing that her son did not die in vain. Because of what happened to him, the man who police describe as a serial killer is off the streets, and families of the four other victims may very well get justice.
"Hopefully this will put an end to some of this."
Police believe that Scott is responsible for all five murders, but prosecutors have only charged him in two.