This is an archived article and the information in the article may be outdated. Please look at the time stamp on the story to see when it was last updated.
LUBBOCK, Texas — A mother arrested and charged after police say she left her young daughter to wander alone has been released from jail. Shauna Bennett, 42, was arrested over the weekend and charged with child abandonment and endangerment.
Police found her three-year-old daughter in the apartment by herself on Saturday. They say the girl had on dirty clothes and was covered in bug bites.
KCBD-TV reported that the while police waited with the child for Child Protective Services to arrive, the girl told police, 'I'm hungry' several times and stated 'I need a beer.'
One neighbor says Bennett is a single mother who has to work nights and is often exhausted. Another says she's been struggling.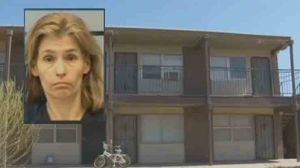 "She's fallen on hard times and she works nights and the little girl is just high enough to open the door and get out," said Michael Perry, neighbor.
According to KCBD, police had trouble awakening Bennett when they arrived on Saturday.
"She had just gotten off work about 5:30, 6 o'clock that morning and was very tired, very tired," said Keith Graves, another neighbor.
Yet another neighbor said the little girl wanted her mother back after she was removed from her care.
"She was saying you know go get my mom back. She was just, she didn't understand you know, go get my mom back and that's really sad," said Lois Griffith.
Griffith said she brought the little girl a stuffed rabbit "to have…. something good in the midst of what was happening to her."