This is an archived article and the information in the article may be outdated. Please look at the time stamp on the story to see when it was last updated.
INDEPENDENCE, Mo. — A dog got lucky Tuesday morning in Independence, or at least as lucky as you can be after getting tossed out of a moving truck.
On Tuesday morning, Mike Gehring started out on what initially was an uneventful drive through Independence. Gehring said he was taking a friend to a store when he couldn't believe what he saw.
"We were heading eastbound on Truman near Northern Avenue. The white pickup swerved to the left lane, and then someone threw the dog out of the truck. The dog literally went flying, hit the ground and rolled into a concrete wall," a shocked Mike Gehring said.
Gehring said that's what happened to "Coco." The Grain Valley grandfather, who owns two dogs, dashed to save the frightened, disoriented lab-mix.
"It's just monstrous. I just can't believe somebody would do that to an animal. I was heartbroken, and I was torn between going after the person in the truck and getting a license plate or trying to save the dog. Also, the person had lots of old junk piled in the trailer, and that's why I didn't get a good look at the driver. I do believe two people were in that vehicle,"  Gehring said.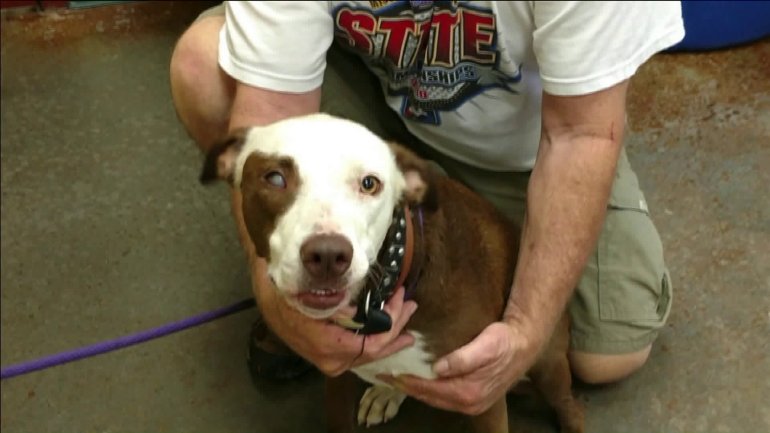 He took his new furry friend to the Great Plains SPCA Intake Center in Independence where workers were amazed and relieved that Coco didn't suffer any broken bones, cuts or obvious trauma.
"She really is a lucky dog, considering what she's been through. She's in really good spirits. She's a very hyper, happy girl," said Deeena Miller, who works at the animal shelter.
She's a good girl still on the go thanks to her good Samaritan.
"I'm glad I was there to help her. I'm just really hoping now that the dog might find a happy home," Gehring said.
In the meantime, Coco will remain at the Independence animal shelter for now. Her owner has 10 days to reclaim her before the 14-month-old dog is put up for adoption.