This is an archived article and the information in the article may be outdated. Please look at the time stamp on the story to see when it was last updated.
BLUE SPRINGS, Mo. -- Fresh off a pair of gold medals in Peru, 15-year-old Kara Eaker hopes to join Simone Biles and others on the U.S. gymnastics team this month at the World Championships in Qatar.
"She watched the Beijing Olympics, and I remember her just doing gymnastics on the living room floor along with the girls that were competing," her mother Katherine Eaker said.
Last month, the Grain Valley teen's dreams of winning a gold medal came true at the Pan American Championships to the shock of almost everyone.
"It was her first international competition, a no-name coming in," coach Al Fong said.
But her success didn't surprise Fong. He's coaching six 14- and 15-year-olds at Great American Gymnastics Express in Blue Springs, otherwise known as GAGE.
"These kids right here are the real deal," he said.
Only Eaker, who will turn 16 before year's end, is eligible to compete on the senior circuit right now. She's giving it everything she's got.
"We do a lot of hours in the gym almost every single day of the week except Sunday," Eaker said.
She relies on the support of teammates in a sport that's unforgiving.
"It comes down to that one tenth that makes you either the winner or just average," she said.
"You just hope for the best, and when they hit it, it's wonderful. And when they don't, your heart sinks as a parent," her mother said.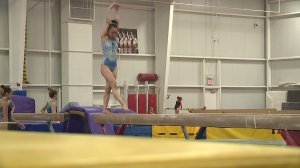 Eaker took home bronze in the floor exercise and won golds with the national team and on the balance beam. As she prepares to head to World Championship qualifications Tuesday in Sarasota, Florida, the Grain Valley High sophomore still has to balance life and school-work.
"She's just so driven, and she inspires us everyday," her mother said.
Driven, but still living in the moment of her accomplishments so far.
"Being up on that podium, receiving that medal and then hearing the national anthem for your country is great," Eaker said.
"It just validated her that she really belongs on the world stage," Fong said.