This is an archived article and the information in the article may be outdated. Please look at the time stamp on the story to see when it was last updated.
LEAVENWORTH, Kan. — Leavenworth County attorney Todd Thompson announced Monday that the Leavenworth police officer accused of killing a 47-year-old man when responding to a disturbance call last summer has now been charged.
A grand jury indicted Matthew Harrington, 25, on one count of involuntary manslaughter in connection to the July 11, 2017 shooting.
Harrington is currently in Leavenworth County custody.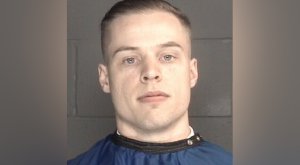 The indictment comes just one month after the family of Antonio Garcia Jr., announced that they filed a lawsuit in an effort to see police body camera footage.
See the indictment announced in the video player at the bottom of the page.
Garcia, Jr.  died after Harrington responded to a call about a domestic dispute.  After an investigation Harrington was fired because it was determined he violated the department's policy.
Harrington's attorney released the following statement Monday afternoon on his behalf:
"Although tragic for all involved, Officer Harrington used force only in response to a clear and immediate threat to his life. We are confident that justice will be served when Officer Harrington is exonerated based upon the reasonableness of his actions."
Attorneys for Garcia's family told FOX4 in July they filed several open records requests asking to see the video.
His family says they're in the dark about what lead  to the officer's alleged actions, and seeing which policy he violated would give them the answers they've waited for, for more than a year.
In the lawsuit filed on behalf of Garcia's family, attorneys say Garcia was in his own car, unarmed, at his own house when Harrington allegedly shot and killed him. They called the lawsuit a last resort to see the body cam video that shows the shooting.
"It shouldn't be hard to share the truth with the community that you serve," said Ben Crump, an attorney for the Garcia family.
Harrington is set to appear in court on Sept. 26, 2018 at 1 p.m. If he is found guilty, he faces a minimum of 31 months behind bars.