This is an archived article and the information in the article may be outdated. Please look at the time stamp on the story to see when it was last updated.
RAYTOWN, Mo. — Instead of playing at home with his baby brother, 3-year-old Dwan Taylor, has been in the hospital recovering from gunshot wounds.
Venice Harrell, the boy's maternal grandmother, said "it's a miracle" that her grandson survived getting shot on Tuesday.
"I am more than thankful. Our God is good," Harrell told FOX 4's Robert Townsend during an exclusive phone interview Thursday night.
Harrell, who lives in Minneapolis, still can't believe what happened to her grandchild.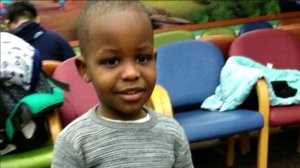 "My other daughter texted me and told me that he'd been shot," Harrell said. "Dwan was shot on his mother's birthday while his mom was at work. This is the worst birthday she's ever had."
Harrell said Tuesday afternoon her grandson was at his father's apartment near 63rd and Ash Avenue with his father, his dad's half-sister and several other children when a single gunshot went off.
She said the half-sister's 3-year-old son found a gun in his mom's purse and then shot his cousin.
"There was more than one adult there when this occurred, and the adults were not paying attention to the children," Harrell told FOX 4.
Raytown police told FOX4 they're still investigating the incident. Capt. Dyon Harper with the Raytown Police Department said as of Tuesday a detective is still "working on the case and talking to folks." He also said the little boy was treated and released from the hospital.
Harper said "it appears a couple of kids were in a room" inside the apartment near 63rd and Ash and one of them got hold of a gun. Harper said one adult man was in another room. He couldn't confirm if that man was Dwan's dad, Dwan Taylor. Sr.
"The bullet went in and out of one leg and then in and out the other leg. Absolutely, my grandchild could have been killed," Harrell said.
Police are still investigating the shooting, but so far, there have not  been any arrests or charges filed. Harrell hopes that will soon change.
"It's just not right," she said. "There's no way that she should be carrying a loaded gun in her purse and not be aware of those children (who) were inside that apartment. I'm surprised no other child was hurt. I believe those two boys were actually playing with the gun before it went off. Yes, I want charges filed."
In the meantime, the grandma holds on to one prayer.
"I just hope that my grandson continues to heal so that he can go back to being a normal child," she said. "I think he will need therapy after this, but I hope he doesn't remember any of this."