This is an archived article and the information in the article may be outdated. Please look at the time stamp on the story to see when it was last updated.
OLATHE, Kan. — A Johnson County judge ruled Wednesday that 24-year-old Lindsey Thomasson will go to trial for the murder of her fiance's daughter, Presley Porting.
Presley Porting lived with her dad and Thomason, his fiancee. In February, paramedics were called the their home because Presley wasn't breathing. A pathologist testified in October that the little girl suffered a savage beating, which caused bleeding to her brain and around her eyes.
The little girl's family said there are still a lot of unanswered questions about Presley's death.
"This is the end result. This is the sum of all fears of any parent of any grandparent. This is my granddaughter. This is what is left of her," Martin Porting said as he held the ashes of his granddaughter.
Presley's grandfather was shocked at evidence presented during Thomasson's preliminary hearing, but most upsetting to Porting was learning Presley's father, Nick Russom, was granted immunity for testifying against his fiancee.
"I believe the father also either acts in unison or after the fact tried to cover up," Porting said.
Police said Russom was not home at the time of the brutal beating, but the Porting family wants to know what Russom needs immunity from.
"And I think it will come up in trial," Porting said. "But if he is granted immunity, we are just left with too bad so sad, at least we got a conviction."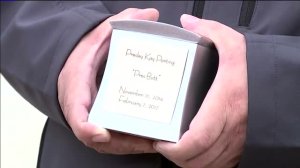 "We strive to keep victims families informed and will continue to do so with the Portings," Johnson County District Attorney Steve Howe said. "Because the case is pending, my office can not lawfully comment about the details of the case."
Howe said he plans on meeting with the Portings to personally address their concerns.
Fox 4 also reached out to Russom who, as a witness, could not comment other than to say, "Mr. Porting has a right to his feelings, and I am sorry he feels the way that he does. He knows how much I love my daughter and that I would never hurt her."
Thomasson's next court date is Jan. 31 where a judge will schedule a date for her trial.