This is an archived article and the information in the article may be outdated. Please look at the time stamp on the story to see when it was last updated.
GRANDVIEW, Mo. — Prosecutors have announced murder charges in the arson death of 37-year-old Anika Hobley and 14-month-old Se'Asia Elijah.
Prosecutors allege Stephen Elijah, 33, is responsible for setting the Sept. 29th fire at his Grandview home while Hobley and his daughter, Se'Asia, were inside. Elijah has been charged with two counts of second-degree murder and one count of first-degree arson.
Court documents state firefighters responded to the fire around 2:45 a.m. on Sept. 29 and observed Elijah outside the home, naked, attempting to douse the flames with a water hose. Elijah had severe burns to his back and arms.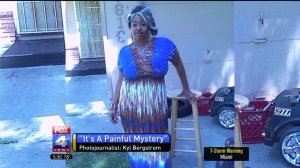 Charging documents state Elijah told authorities his daughter was on the deck and that she had died. An officer located 14-month-old Se'Asia and removed her from the deck and away from the fire. While officers performed CPR, the charging documents state that Elijah said, "My baby is dead, she doesn't have a heart beat." Paramedics arrived and rushed her to the hospital where was was pronounced dead.
Charging documents allege that Elijah provided "numerous accounts" of how the fire started. In one instance, Elijah told an officer "she is always starting fires in the fire place." In another instance, Elijah told police he started the fire using kindling and gasoline. Charging documents state the Elijah ultimately stated that he was the only person who started the fire that caused the deaths of Hobley and his daughter.
Also inside the home at the time of the fire were two other children who managed to escape by jumping out of an upstairs window. When the fire started Se'Asia was in a playpen in the living room located on the second floor of the home.
In the basement firefighters discovered Hobley, who was dressed only from the waist up. Charging documents state that Elijah admitted to police that his initial story of Hobley being at the home to babysit his kids was not true.
In the basement where Hobley was located, fire investigators also located an unknown chemical and the remains of a red melted "container used to hold an accelerant."
Court documents said fire investigators reported there appeared to be "multiple origins" of the fire.
Elijah is expected to appear in court on Monday December 8, 2014.