This is an archived article and the information in the article may be outdated. Please look at the time stamp on the story to see when it was last updated.
GRANDVIEW, Mo. — When bean bags didn't work, officers resorted to bullets. A Grandview man shot by police died in the hospital on Sunday.
The Missouri Highway Patrol said the man threatened Grandview officers with two samurai-style swords. It happened in a neighborhood near 148th Terrace and Bellaire just off I-49.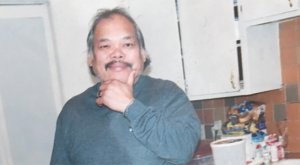 Larry San Nicholas, 60, came out of his home around 3 p.m. after his family called police concerned for his mental state and health.
People in his neighborhood were shocked at the scene that unfolded, and described him as a kind and thoughtful man.
"It's heartbreaking. I'm speechless. There's no words," said neighbor Heather Faudel.
Faudel was sitting on her couch that afternoon when she heard yelling and gunfire.
"I was just watching out the window, but I could hear all my neighbors who are his family members crying, and saying why did you have to shoot him, because he wasn't a violent person. He was a wonderful man," Faudel said.
Brandon Hitchner, another neighbor, saw the whole thing.
"Woah," Hitchner said. "You know, that's crazy. I can't believe they did that."
The Missouri Highway Patrol says family members called police saying San Nicholas was despondent.
"They just indicated that the individual was acting despondent, and acting irrational, and violent," Lt. Bill Lowe with The Missouri Highway Patrol said.
When Grandview police arrived on the scene he came out of the house with two katana swords and rushed towards officers. They fired bean bags at him in an attempt to stop him.
"For anybody to get hit with two bean bag rounds typically the response is I'm going to stop doing what they want me to do, but not this individual. He continued on," Lt. Lowe said.
That's when The Highway Patrol said Grandview Police fired twice. Witnesses say they heard around six shots.
"They didn't need to do that. They didn't need to shoot him. They could have hit him with a taser or something like that," Hitchner said.
Officers administered first aid on San Nicholas after he was shot. An ambulance took him to the hospital, but he died later in the day. Faudel says she hoped he would make it.
"He`s a favorite. He serves all of us. He`s the kindest person," Faudel said. "Probably the top ten kindest person I've ever met. This is tragic."
His son, Frank Arceo, told FOX4's Sherae Honeycutt his father was a diabetic, and was diagnosed back in the 1990s. San Nicholas was on disability and Medicare, and he struggled to pay for his insulin. Arceo said when it gets to the end of the month sometimes San Nicholas runs out and can't afford to buy more. When he doesn't have his medication he can become manic, argumentative, and black out. Arceo says this time he just happened to have a sword.
His son says San Nicholas is an Army veteran and adopted him when he was 5-years-old. He says San Nicholas taught him to serve others and inspired him to join the Army himself.
The Missouri Highway Patrol says they will continue their investigation, and will be conducting a toxicology test to determine if drugs or alcohol were a factor in this case.