This is an archived article and the information in the article may be outdated. Please look at the time stamp on the story to see when it was last updated.
GRANDVIEW, Mo. — A 15-year-old was shot after trying to rob a business near Blue Ridge Boulevard and Grandview Road on Aug. 8.
Officers responded to a call of a shooting at about 4:30 p.m. according to the Grandview Police Department. They found a teenage male with a gunshot wound. The teen was taken to a hospital with non-life-threatening injuries.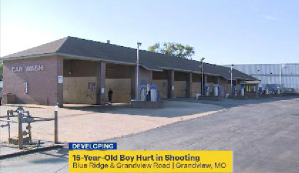 Upon investigating, police found out an adult employee of the business shot the 15-year-old during the attempted robbery. Police said the man stayed on the scene and cooperated with police. It's unclear if the man had a right to carry the gun.
Officials said names are being withheld, pending investigation. The case has been referred to juvenile authorities.
Anyone with additional information can call the TIPS Hotline at 816-474-8477.