This is an archived article and the information in the article may be outdated. Please look at the time stamp on the story to see when it was last updated.
KANSAS CITY, Mo. — "Enough is enough," said one of the members of  Mothers in Charge, who gathered with the grieving parents and extended family of Mahsaan Kelley-Wilson, the 4-year-old boy killed early Monday morning while he rode in his parents' car.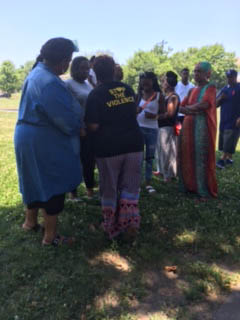 Mothers in Charge, united with Mahsaan's family, met at the park near 31st and Park Tuesday afternoon to appeal to anyone and everyone to help police find Mahsaan's killer.  The location, Sanford Brown Plaza Park near Metropolitan Missionary Baptist Church,  was chosen because it was one of Mahsaan's favorites.
Mahsaan, 4, was killed early Monday at about 2:00 a.m., when the car he was in with his parents, Donneka Kelley and Andrew Wilson, was unknowingly caught in a rolling gun battle at 8th Street and Paseo. They were coming from a Father's Day family barbecue after watching the NBA Finals. Mahsaan's 9-month-old baby brother was also in the car when it was hit.
"He was joyful. He was a very tough little kid. He loved to watch Paw Patrol on TV. He was just an all around little boy, " said Kymbr Logan about her cousin Mashaan.
"Never in my wildest dream did I ever think I'd be standing here crying, mourning my little cousin. It's just so sad and it hurts tremendously, " Logan said as she stood on a hot, sweltering day at Sanford Brown Plaza Park near Linwood and Park Avenue in Kansas City.
"This was Mahsaan's favorite park. It's near our grandmother's home and he'd loved to come get on the swings, run around, he just had a lot of fun here, " added Kymbr.
Sadly, a little boy, who was supposed to attend pre-school in the fall, will now be buried in a few days.
Police say early Monday morning Mahsaan, his parents, Donneka Kelley and Andrew Wilson and Mahsaan's 9-month-old baby brother left a Father's Day family barbecue and were heading home when the unthinkable became all too real.
Within moments, the family unknowingly got caught in the middle of a shootout between people in two different cars near Eighth Street and The Paseo.
A single bullet tore through the family's car and hit Mahsaan. The little guy later died at the hospital.
Police are still looking for the shooters who sped off after all the gunfire.
"I remember when Mahsaan was born. I was in the delivery room at the time and that was a beautiful thing. We're just asking the people who did it to come forward. Imagine if this happened to your family, one of your loved ones, you'd want the killers to be caught," said Maryam Gueye, Mahsaan's great-aunt.
"My cousin's parents are just standing here with aching hearts. The tears won't stop falling from their eyes. This has really hurt us all. If anyone knows anything even just a small tip, please, reach out to the Kansas City Police Department, " pleaded Kymbr Logan.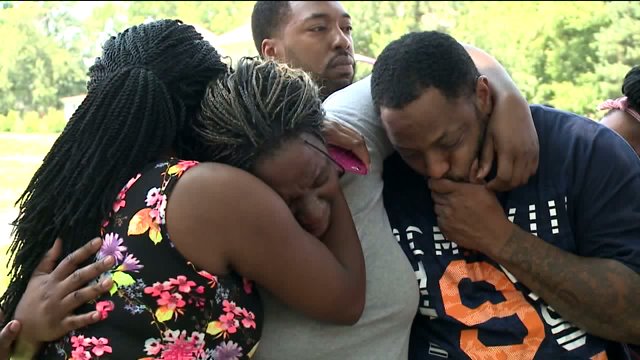 As of Tuesday afternoon, Mahsaan was the youngest and the 47th homicide victim in Kansas City so far in 2016. A sobering statistic that has left holes in the hearts of the boy's family and many others around the community.
"This is a shame. I stand here and I hurt with this family. We must do better as a community and we must stop all this senseless gun violence, all these killings of innocent children! Enough is enough and we can no longer allow our babies to be killed, " shouted a frustrated Rosilyn Temple, the president of the anti-crime group, KC Mothers in Charge.
Meantime Crime Stoppers is offering a $1,000 reward to anyone who has information that will lead to an arrest in the little boy's tragic death. Of course, you may also call remain anonymous and call the TIPS Hotline at (816) 474-TIPS.