This is an archived article and the information in the article may be outdated. Please look at the time stamp on the story to see when it was last updated.
KANSAS CITY, Mo. -- Cynthia Hopkins' son, 36-year-old Derrick Harris, was shot and killed in Kansas City last month. Like many homicides on city streets, there are no suspects or arrests, so far, in her son's murder.
"I just want to be around other mothers that are feeling as hurt and lost, confused and sad," Hopkins said.
On Thursday night, Hopkins had just that opportunity as she attended her first meeting with the anti-violence group Mothers in Charge.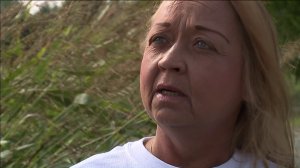 Hopkins traveled from Harrisonville to the KCPD's East Patrol Division for the get-together, and she wasn't sure what to expect.
But Hopkins was immediately put at ease and warmly embraced in a hug from Rosilyn Temple, head of the group.
Temple also knows the pain of losing a son to violence on the streets. Temple said there's tremendous power in the fellowship of other moms who know the pain of losing a loved one to crime.
"It's going to take a community to come together and fight this," Temple said. "The police department can do all they can do, but they are exhausted. We are exhausted as moms. But we're not exhausted enough to give up on our children's lives."
Hopkins is planning a balloon launch on Sept.9 in Harrisonville City Park in memory of her son.