This is an archived article and the information in the article may be outdated. Please look at the time stamp on the story to see when it was last updated.
KANSAS CITY, Mo. — A mother has traveled hundreds of miles in hopes of getting answers about her son.
Someone killed 25-year-old Dante Wachtler on Aug. 19 near 9th and Harrison.
Toni Priore said her son was traveling through Kansas City to start a new chapter in his life. When he was killed, he didn't know the area he was in and didn't know his life was in danger.
"We're devastated by this," Priore said. "My son was a loving son, and many people loved him, and he's been taken away from us. It`s not right. It`s not fair. No one should have to deal with this."
Her son took the bus more than 1,000 miles to Kansas City. He was traveling from Long Beach to look at starting a new life in St. Joseph.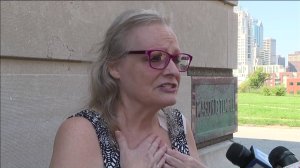 "Getting a job, getting a place to live, getting his own place — and he loved to cook," Priore said.  "He was a chef at different restaurants, and he loved that. So I`m sure that`s what he was going to do."
He was on his way back home and waiting to get on his bus to California when he walked away from the Greyhound bus station.
"Didn't know the area, didn't know if it was a good area or not," Priore said. "How would he know? He'd never been here before."
Police say they found Wachtler dead in the street at 9th and Harrison. He was shot around 5 a.m.
"He`s gone now," Priore said "He's totally gone."
She said she knows her son wasn't perfect, but he didn't deserve to die.
Investigators released a photo of a small silver or gold four-door car that was seen leaving the area at the time of the shooting. Priore said she hopes someone will come forward with information on the car or her son's death.
"It would mean everything," Priore said. "It would mean — not just to my family, and the people that cared about my son, but other people cared. My son mattered. He mattered. Anyone who's murdered matters to somebody. We`re all human beings. We need to care about each other."
KCPD said, at this time, there's no update on the case, and investigators are still looking for the car in question.
Anyone with information is asked to call the Homicide Unit at 816-234-5043 or the TIPS Hotline at 816-474-TIPS. There is a $10,000 reward for information leading to a conviction through Crime Stoppers. You can remain anonymous.