This is an archived article and the information in the article may be outdated. Please look at the time stamp on the story to see when it was last updated.
WARSAW, Mo. -- Nine days have come and gone, and police still have no leads to the whereabouts of Hellen Cook.
She's the 72-year old Alzheimer's victim who vanished in Warsaw, Missouri.
Five members of Hellen Cook's family met privately with officers from the Benton County Sheriff's Department on Monday for about two hours. It's been more than a week since they've seen their beloved wife and mother, who recently celebrated her 50th wedding anniversary. Family members tell me they requested this meeting to coordinate their own search efforts with those of law enforcement.
"It's been a week and two days now," Terri Cook, daughter of the missing woman said. "We need to find her, and we need to find her soon."
Police have no new leads as to finding her lost mother.
"The sooner we can do that, the better," Howard Cook, Hellen's husband, said. "We're choosing to believe she's still alive and that just makes the immediate action more necessary."
The Cook Family plans a massive man-to-man search for later in the week, where they hope to cover every inch of land in the area where the Buckner resident was last seen.
"They tell us Alzheimer's patients frequently hide in small crevasses, window wells, and small places you wouldn't be looking," Terri Cook said."That's what we're doing."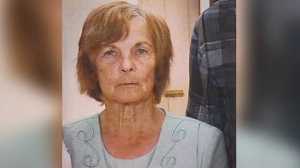 Kansas City Police officers plan to donate a team of search dogs to assist the Benton County Sheriff's Department, and a detective from the Missouri Highway Patrol plans to re-interview the last few people who saw Hellen Cook before she vanished on July 13th.
"We're not giving up yet," Howard Cook said. "We're hoping that if not before, we hope this massive search come Wednesday yields a result."
Cook's family members say they've watched her suffer the effects of Alzheimer's disease for close to four years. They're aware that it's not uncommon for these patients to become confused and wander off. They just didn't know she'd be gone for so long.
Terri Cook says she's in search of volunteers to help search for her mother -- either this Wednesday or Thursday.