This is an archived article and the information in the article may be outdated. Please look at the time stamp on the story to see when it was last updated.
DENVER -- A man hopes the Purple Heart medal his dog dug up in their backyard will soon be in the hands of the soldier's family, to whom it rightfully belongs.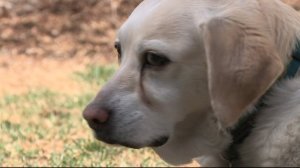 Steve Jankousky says his lab "Smuckers" uncovered the valuable award about ten years ago. Engraved on the back of it, the name "Corporal Richmond Litman".
For all these years, the medal has sat in an old tin cup bearing Jankousky's father's name. Jankousky's father was also a soldier.
Recently, Jankousky turned the medal over to the group "Purple Hearts Renunited."
The purple heart was placed on Corporal Litman's grave during a ceremony of honor that included members of the Military Order of the Purple Heart.
The group's purpose is not just telling the man's story, but hoping someone steps forward so Corporal Litman's legacy will forever live on.
"They belong to be with that family," said Capt. Zachariah Fike, founder of Purple Hearts Reunited.
Purple Hearts reunited has been able to locate and return medals to more than 150 military families in just three years.
If you know anything about Cpl. Litman, you can contact the PHR Foundation atwww.purpleheartsreunited.org​.