This is an archived article and the information in the article may be outdated. Please look at the time stamp on the story to see when it was last updated.
KANSAS CITY, Mo. — As a Missouri Highway Patrol K9 unit, Jampy has faced countless dangers in the line of duty. But thanks to the efforts of a local organization, he will now be facing the trials of police work with some extra protection.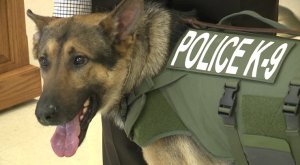 Jampy has been outfitted with some doggy body armor.
Going to the Dogs is a local organization that raises money to buy special bulletproof and knifeproof vests for police K9 units. Jampy is the latest pup to get a vest, and the first for the Missouri Highway Patrol.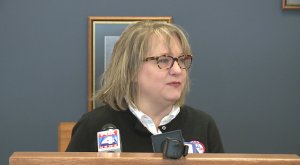 Donna Wilson, founder and executive director of Going to the Dogs, said the vests are crucial for the dogs' safety, and are important for their human handlers, who form a strong bond with the animals.
"It's so important that we put this protection on the animals as much as we do the officers because they are partners. That has become very obvious whenever I start meeting more and more of the officers with the K9s," Wilson said.
Wilson credits the city with being able to the raise the money to purchase the vests.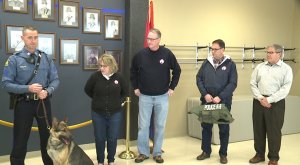 "Kansas City is known to be an animal-friendly community, and you can definitely see that when you're asking for donations for this cause," she explained. "We have been very fortunate last year. We were able to give away ten vests to other dogs in Lenexa, Shawnee, Olathe, Bonner Springs, Tonganoxie, Jackson County Sheriff."
Wilson's organization has outfitted dogs with other agencies, but 3 and a half-year-old Jampy will be the first for the Missouri Highway Patrol.
She explained that the vests are made of Kevlar, a bulletproof and stabproof material, and can weigh between 5 and 7 pounds, depending on the size of the dog. The vests are customized for each particular K9, so measurements have to be taken before they are made.
Each vest costs about $1,000.
Jampy's partner is Sgt. Brooks McGinnis. McGinnis said knowing that Jampy now has more protection gives him some peace of mind.
"We're actually with our dogs more than our own families because if you figure the work time plus home time, we're with them a lot," McGinnis said.
In his new vest, Jampy seemed a bit off-balance at first, but seemed to quickly get used to it.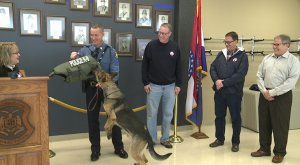 McGinnis said the vest will require a bit more training for the dog, and may present some obstacles during tracking missions in hotter summer months, but no doubt Jampy is up to the task.
The Highway Patrol currently has 11 K9s, and Wilson said her organization's goal is to get the other 10 vested as well.
Wilson also thanked donors Dr. Craig Satterlee and his partners for helping to fund the vest.
For anyone who would like to donate to help get vests for other K9 units, visit Going2theDogs.org.