This is an archived article and the information in the article may be outdated. Please look at the time stamp on the story to see when it was last updated.
KANSAS CITY, Kan. -- Patients at a metro hospital got a fun surprise visit Wednesday when the Harlem Globetrotters basketball team dropped in.
When their famous faces walk through hospital doors, sick patients tend to smile.
On Wednesday morning, patients in the pediatric unit at the University of Kansas Health System were visited by Will "Bull" Bullard and Briana "Hoops" Green, as they prepare for their annual visit to Kansas City.
For more than an hour, the two Trotters shared grins and goofy moments with sick children and their families.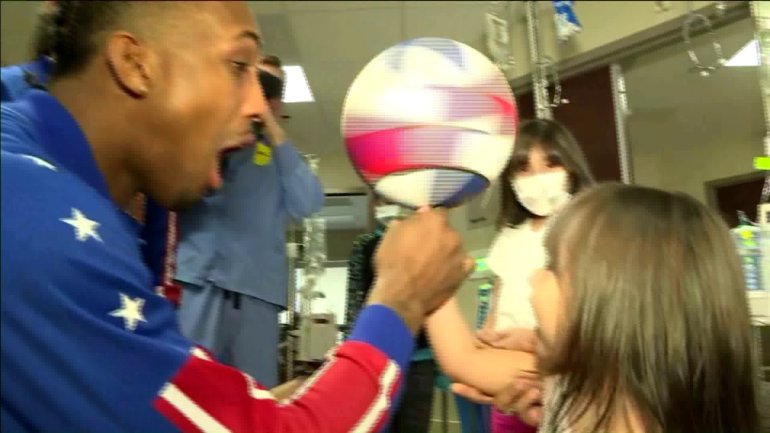 The Globetrotters' schedule never ends since their travels run all year and, often, takes the team overseas. The Globetrotters' Smile Patrol program encourages the organization's athletes to make missions of mercy, such as visits to ill children at local hospitals.
"I'll be in the hospital for the next two weeks," said Sarah Ohnemus, a teenage patient in the hospital's pediatric wing.
Ohnemus, a native of Nebraska, said she's no stranger to long hospital stays. The 16-year-old said she's living with Cystic Fibrosis, and she wasn't counting on a fun moment with the generous athletes from the Globetrotters, who spent five minutes teaching Ohnemus to spin a basketball on her finger.
"It was awesome. I wasn't expecting it," she said.
Danielle Juarez, a mother of three, said she felt a little overwhelmed. The Topeka resident said all three of her daughters are patients at the University of Kansas Health System right now.
Juarez said a moment to meet with smiling faces, ones that make her daughters giggle, was priceless.
"It's so wonderful to see her smile while we're in here," Juarez said. "There are so many things that we have to do while she's in here. To have people come and visit her and make us smile and laugh during these long hospitalizations is nice."
Green, a native of Lexington, Kentucky, has performed with the Globetrotters for two years, having played college basketball at the University of Texas-El Paso. "Hoops," as she's known on stage, said tender moments with children make her job seem worthwhile.
"I think it uplifts them tremendously," Green told FOX 4's Sean McDowell. "When they see us, and they see these shirts, and they see these tricks, they definitely start to laugh and smile, and that's what makes it special."
"Hoops" also said that trademark ball spin on the finger is a sure fire way to get a smile. She said that trick, and something about that spinning sphere, seems to make sick children smile, and the Globetrotters are happy to provide it.
The entire Globetrotters team will be back in town in just a few weeks. Mark your calendars for February 24-25, when they'll play games at both the Sprint Center and the Silverstein Eye Centers Arena in Independence.