This is an archived article and the information in the article may be outdated. Please look at the time stamp on the story to see when it was last updated.
KANSAS CITY, Mo. — Losing over 800 jobs means hundreds of metro families will be out of work.
On Tuesday morning, news arrived that Harley-Davidson, the giant motorcycle maker, will close its Kansas City assembly plant in 2019.
Some of the plant's present employees will have the option to follow Harley to Pennsylvania, where those jobs are being relocated. However, not everyone can afford to uproot and move.
Two Harley-Davidson employees told FOX4 they were dumbfounded by the news, which began to circulate after H-D held a town hall meeting at the plant around 6 a.m. Tuesday.
When Kevin Amos arrived at work for the day shift, he and the plant's overnight employees were informed of the corporation's intend to end assembly of three lines of motorcycles in Kansas City, beginning with the popular Softtail bike in December 2018. The plants other two lines will cease production in the summer of 2019.
Amos, who serves as president of the International Association of Machinists and Aerospace Workers for Lodge 176 in Kansas City, has worked at the assembly plant for almost 17 years. Amos said nobody saw it coming — not even union leaders.
"We have a good workforce, and we did as we were told," Amos said. "We were living in a seven-year concession contract. Workers were hurting, and yet we did everything we were supposed to do."
Amos, like his 433 union members, will soon search for a job. He's a family man with two children, and he's upset that he couldn't inform his kids before they left for school, where others were sure to tell them.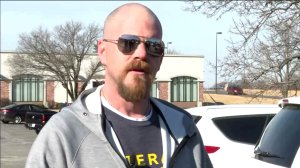 "Many (employees) are speechless. Others say they saw the writing on the wall. It's been a slow trickle of contracting things out a little at a time," Amos said.
Financial reports from the past year show a significant downturn in sales of Harley-Davidson motorcycles, and the Milwaukee-based company has suffered from big financial losses.
"They are shutting down because they are not accumulating enough money within the bikes," Dominique Alstrok, who works at the assembly plant, told FOX4's Nicole DiAntonio.
"Where is my next job? What am I going to do benefits wise? I have three kids and a single mom. So right now I'm going to go home, eat my breakfast and then we'll go look for another job," she said.
Other businesses in the area told FOX4 their annual budgets depend on customers with ties to Harley-Davidson. Plant employees often dine and drink at eateries such as Nick and Nino's, a popular bar and grill, and Smoke Box Barbecue, where owners have enjoyed tour groups of motorcycle enthusiasts who travel to tour the assembly plant.
"We're pretty sad about it," Michael Occhipunto, co-owner at Smoke Box Barbeque, told FOX4.
"I know, personally, some engineers who've come to town to work there," he said. "When they come in, I'm interested to know what they have to say. How's it going to affect their lives? Are they going to stay in Kansas City or are they going to move on?"
Paper Allied-Industrial Local 5-0760, another collective bargaining unit within the plant, represents workers not affiliated with IAWAM. Amos said employees were sent home on Tuesday morning with a day's pay. They're all expected back when day shift begins at 6 a.m. Wednesday.