This is an archived article and the information in the article may be outdated. Please look at the time stamp on the story to see when it was last updated.
HARRISONVILLE, Mo. -- One high school in the metro witnessed an eye-opening experience on Friday. Students surprised a beloved teacher with a sweet surprise, one that allows him to exist in living color.
All his life, Harrisonville High School science teacher John Magoffin says he could only see drab colors. He's colorblind. His fellow teachers and students called a special assembly, presenting him with a life-changing gift. A special pair of glasses that allow him to see colors.
Magoffin has been a teacher at HHS for five years, and when he put on those special endochroma glasses, he was overwhelmed by the intensity of what he saw. Magoffin's entire world burst into focus.
"Ohhh, man," Magoffin said, fighting back tears as the school's study body cheered. "I could not begin to express what I see because you guys already see it."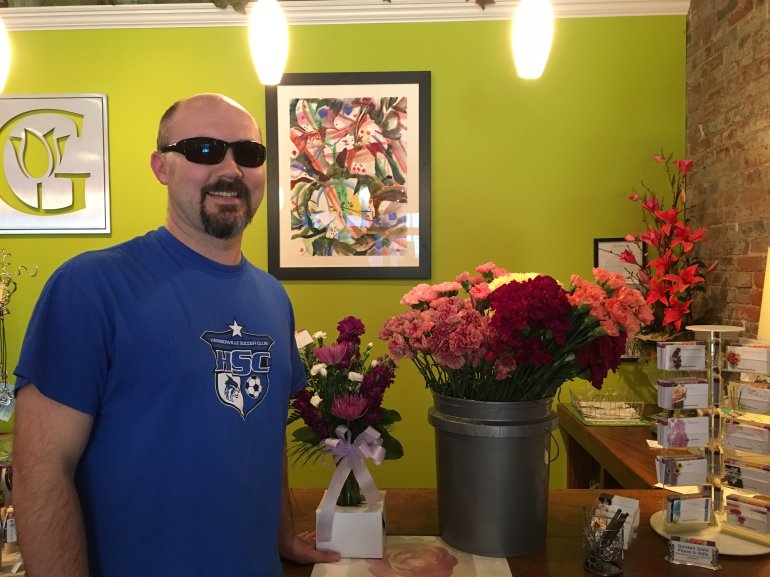 Magoffin says he hadn't purchased the glasses before now because he can't afford them. His wife encouraged him to try them on recently during a vacation, ensuring they'd allow him to see. Students from Harrisonville High School's art department raised the entire $740 to purchase the spectacles.
"Words just don't do it. I will be able to see more than two stripes in a rainbow. I will be able to correctly instruct my kids about what color they're making things," Magoffin said.
Seeing colors for the first time in his life, an ability many people take for granted, is an overwhelming rush.
"It's like living in a world with the lights off, and you've always known them to be off, and somebody turns them on," Magoffin beamed.
Magoffin tooled around the school gymnasium and courtyard, experimenting with his new glasses, which resemble a pair of high-end sunglasses. He'd never seen a blue Missouri sky or a green evergreen tree until Friday morning.
Harrisonville High seniors Randi Buerge and Jadyn Gilbert are among the legion of art students who helped make the money for the glasses, staging a giant painting party called "Cupcakes and Canvas." They say it's a warm feeling knowing Magoffin can now see colors as clearly as artists do.
"I paint a lot of landscapes, and if I couldn't see what colors were in my picture, then, it wouldn't look like a landscape. It wouldn't be right," Buerge said. "And now, he can see it."
"It's an extremely intense sensory event, if you were to ask a science teacher. You're perceiving things you have no knowledge of," Magoffin said.
"I remember last year, I died my hair blue," Gilbert told FOX 4 News. "He went up to me, and said, 'Jadyn, is that blue or purple?' Now, he'll be able to tell the difference."
Magoffin says he's seen as being a tough teacher and he appreciates students who see academics as a high priority. He says he'll spend his first day with the new glasses selecting flowers for his wife, a task he's never been able to do on his own.
The National Eye Institute says as many as eight-percent of men can be affected by colorblindness, so long as their roots trace back to Northern Europe. Magoffin says he'd seen social media videos where other colorblind people tried on the endochroma glasses, but he never dreamed he'd receive a pair.