This is an archived article and the information in the article may be outdated. Please look at the time stamp on the story to see when it was last updated.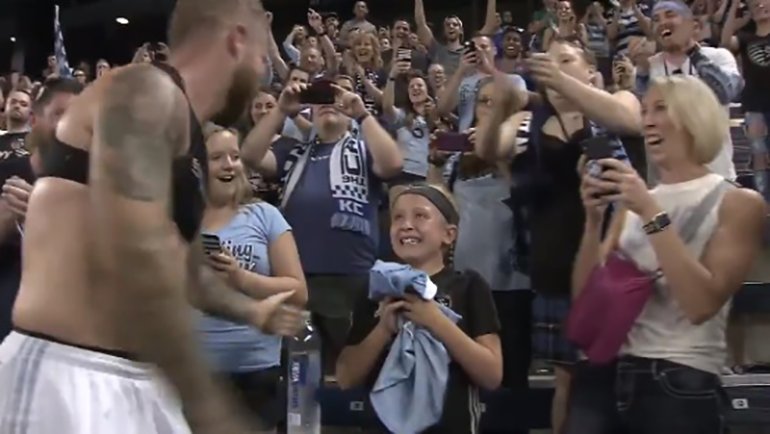 KANSAS CITY, Mo. — A video of a Sporting KC player giving his jersey to a little girl for her birthday blew up on social media last weekend.
But it's also caused many people to wonder: Why is Johnny Russell wearing a sports bra?
Well, he's not the only one who wears one.
"A lot of players take off their jerseys after games, and they'll give it to a fan, and people always ask us what it is," Sporting forward Khiry Shelton said.
Turns out, it's not a sports bra. It's a vest with some pretty high-tech capabilities. Professional soccer players, including Sporting KC players, wear them to hold a performance tracker on their backs between their shoulder blades.
"It's actually a GPS sensor. It's got an 'accelerometer' in there and a gyroscope. So it tells you anything and everything you want to know about the body and what its doing," said Mateus Manoel, Sporting's director of sports performance.
The device looks at a lot of metrics, like the total distance a player runs. Manoel said players typically cover between 10,000 and 12,000 meters in a game.
"It's nice to see how much you run after and how fast did you run, what your high speed was, jogging, too, like all the details, so you can compare your games," Sporting forward Daniel Salloi said
The tracker even measures how fast players run at any given moment.
"I've seen our guys reach up to 23-24 mph, which compared to a guy like Usain Bolt for example, who reaches 27-28 miles an hour, is pretty impressive," Manoel said.
But, unsurprisingly, not all players are fans of the sports bra-like vests that hold the trackers.
"It's really annoying. I personally hate it 'cause you've got to wear like a sports bra with it, and it's not very convenient," Salloi said.
For 90 minutes, she held a sign that read: "Johnny Russell, it's my 9th birthday!"

Then, this. 😭 pic.twitter.com/GRJB5nGQMX

— Sporting KC (@SportingKC) August 19, 2018