This is an archived article and the information in the article may be outdated. Please look at the time stamp on the story to see when it was last updated.
ROQUE BLUFFS, Maine — Two women who became lost while hiking in a Maine state park were rescued during a heavy rainstorm Tuesday night. An hour later the women took a wrong turn and drove their van into Pond Cover near Roque Bluffs State Park.
The women were found in the back of the van. Their dog had also died.
The women were identified as Melissa Moyer of Sunbury, Pa., and Amy Stiner, who was five months pregnant, of Machias, Maine.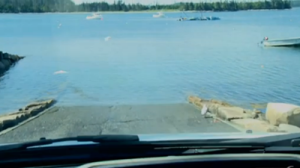 Sheriff authorities said the women got lost while hiking around 9 p.m. during a heavy rainstorm. A rescue service located the women and drove them back to their van. An hour later authorities received another call from them. They said their van was filling with water before the call went dead.
Search teams found the van underwater about 175 feet off a boat ramp in Pond Cove. Authorities believe they became confused in the fog and rain and drove off the road into the water. Authorities believe the van floated away from shore before sinking.