This is an archived article and the information in the article may be outdated. Please look at the time stamp on the story to see when it was last updated.
INDEPENDENCE, Mo. — An officer hurt in the line of duty returned home Friday  and many in the community lined the streets to greet him.
Eight months ago, on March 29, Officer Tom Wagstaff was shot in the head while responding to a burglary.
Police say it began when two of the suspects, Joseph Wyatt, 29, and Ronar Santago-Torres, 27, knocked on the door of a home at 35th and Delaware and told the homeowner they were looking for their lost dog. They also reportedly offered gutter cleaning. The homeowner sent them away.
Moments later the two men returned. Police say Wyatt and Santiago-Torres knocked on the 82-year-old homeowner's door again, and when he opened it, the two are accused of threatening him with a gun, forcing their way in, tying him up and beating him. A friend of the family was watching a remote video feed of the house, saw what was happening and called police. Police say when they heard the sirens, Wyatt and Santiago-Torres took the victim's car keys and drove his SUV through the garage door to get away.
Previous story: Man beaten, held at gunpoint believes he'd be dead if Independence officers hadn't come to help
Gunfire was exchanged between the suspects and police. Officer Wagstaff was hit in the head.
After a short chase, police caught all the suspects as paramedics rushed Officer Wagstaff to the hospital in critical condition.
A doctor treating Wagstaff called his recovery 'remarkable'. Less than a month after he was shot, he was transferred to a rehabilitation center in Omaha, Neb., where he has been working on his recovery.
On Friday members of the community waited for his return in a police procession. They brought signs and cameras and cheers for him. The police car he was riding in stopped for a moment so a fellow officer, and then Wagstaff himself, could address the cheering crowd.
"Ladies and Gentlemen Officer Wagstaff and his family want to thank you all from the bottom of their hearts for all of your support over the last 8 months and he is excited to be home here in Independence," his fellow officer said.
Then Officer Wagstaff spoke. His statement was brief, but his voice was strong.
"Thank you all for coming out. It's really great to be back," he said.
On Saturday, Wagstaff will also be honored at a Hero's Welcome event at First Baptist Church of Blue Springs on Little Blue Parkway. That begins at 2 p.m., and the public is also invited to show their support there.
Joseph E. Wyatt, 28, and Ronar Santiago-Torres, 28, are both charged with first-degree robbery,  armed criminal action, first-degree burglary and kidnapping. Prosecutors requested a bond of $500,000 cash for each. Prosecutors later added a charge of assault against a law enforcement officer.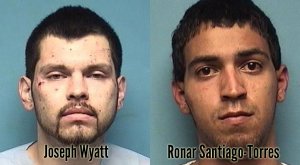 Prosecutors additionally charged two more men in this case. James McChan, 57, and Donald Nussbaum, 52, face first degree robbery, armed criminal action, first degree burglary and kidnapping charges for allegedly acting as accomplices. They'll be held on $500,000 bonds as well.
Their separate jury trials are currently scheduled for spring and summer of 2018.
Previous stories:
Doctor calls recovery 'remarkable' as Independence officer shot in head moves to rehab facility
Blue springs police officer runs full marathon in full uniform to support Officer Wagstaff
Metro communities finding new ways to honor Ofc. Wagstaff as they pray for his recovery