This is an archived article and the information in the article may be outdated. Please look at the time stamp on the story to see when it was last updated.
OLATHE, Kan. — A Johnson County hit-and-run driver will spend the next three years and four months in prison.
Kevin Hall, 40, was sentenced Monday afternoon for drinking and driving and hitting a cyclist then leaving the scene of the crash.
"Because Kevin Hall made a decision to drink and drive, I'll be paying the price for the rest of my life," 65-year-old Steve McCrary said.
McCrary limped with a cane into the courtroom two and half years after he was hit on his bicycle and thrown 38 feet down Shawnee Mission Parkway.
"Who leaves the scene of an accident when they hit someone?" asked  Ann Henderson, prosecuting the case on behalf of the Johnson County District Attorney's Office.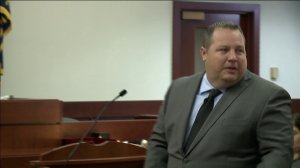 On Monday, for the first time, Hall explained his actions, saying he had too many drinks on the anniversary of his father's death and fell asleep at the wheel. He added he was also depressed as he was going through a divorce.
 "I never saw Mr. McCrary that day, I never saw him," he said.
Hall previously had been honored by the city of Shawnee for pulling someone from a burning truck, but after the Sept. 23, 2015, crash prosecutors say he went to McDonalds and left McCrary for dead.
"A few weeks later I had complications, and I died and then I died again," McCrary said of doctor's work to revive him. "God was certainly there looking after me."
McCrary spent a year in rehab with a lacerated kidney and spleen and the lost the use of his leg.
 "If you gave Kevin Hall a long sentence, it would not be enough because Steve has a life sentence with this boot and cane," McCrary's wife Vicki said.
Judge Charles Droege sentenced Hall to 40 out of a possible maximum 43 months in prison, saying he wanted to send a message to all drunk drivers.
A tearful Hall exited with a message to the family.
"I truly am sorry from the bottom of my heart," he said.