This is an archived article and the information in the article may be outdated. Please look at the time stamp on the story to see when it was last updated.
KANSAS CITY, Mo. -- James Dodge survived the battlegrounds of the Vietnam War, but all week he's been at a KC hospital in a lot of pain after he was attacked out of nowhere.
"My head hurts, my tailbone hurts, and my eyes still hurt," the 71-year-old Army veteran said. "I have a laceration in my left eye that's just now starting to heal to the point where it doesn't feel like rocks are in my eye."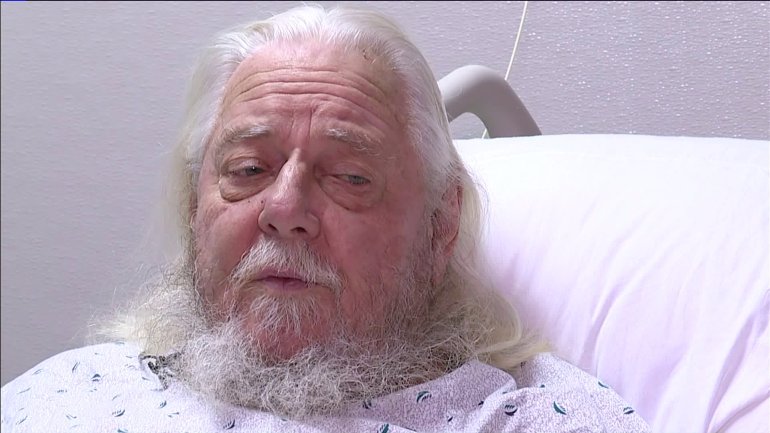 Dodge has been homeless since Christmas. He knows by living on the streets, his life could be in danger at any moment.
Late Sunday night, that fear became all too real.
"I seem to recall I was walking to a store and a guy just came up behind me and hit me in the back of my head and on top of my head with what felt to be a metal pipe or a hammer, and he was punching me in my face," Dodge said. "I fell to the ground, and he kept kicking me. It still hurts to walk right now because he kicked me in my spine."
Paramedics rushed the injured veteran to the hospital. The attacker ran off with $25 he stole from Dodge's pockets.
"I would have given him the mone," Dodge told Fox 4's Robert Townsend from his hospital bed. "He put me through a lot and could have killed me over $25. People are so crazy today, and there's just no compassion. They don't care."
"I felt bad because he's a veteran, and he served our country, and how could this happen to him?"asked Dodge's friend Vicki Winn.
Dodge contacted police.
In the meantime, Fox 4 told Chris Stout and the Veterans Community Project about the attack on the strong soldier.
Now, the group, which is providing transitional housing and other services to at least 170 homeless vets, is reaching out to give Dodge a fresh start after he leaves the hospital next week.
"We may not be his family, but we're his military family, and we are here to help him," Stout said. "We can definitely connect him with the appropriate services and get him long-term care, and I think that's important."
Dodge is certainly grateful for the help.
"Oh I love it. I think that's great they want to help me," Dodge said. "I do have angels around me, and I guess God has a good reason for me to be here."