This is an archived article and the information in the article may be outdated. Please look at the time stamp on the story to see when it was last updated.
KANSAS CITY, Kan. -- For nearly four years now, people have placed flowers, stuffed animals and cards outside a now vacant, bullet-riddled house at the corner of 15th and New Jersey in Kansas City, Kansas.
On Thursday night, family and friends tied even more balloons at the memorial on what would have been Machole Stewart's 14th birthday.
"Machole was more than my granddaughter. She was like my daughter. She was always with me. I miss her a lot. She was funny, liked to play around and laugh. She just loved being a kid," Machole's grandmother Krystal Stewart-DePriest said.
On October 26, 2014, the unthinkable happened to the bright-eyed fifth-grader her family calls their "shining star."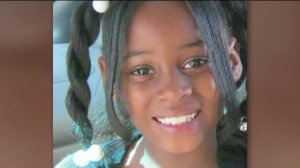 Machole was at home having fun and watching the Royals play in the World Series when police say someone drove by and fired multiple shots at the family's home. Machole died from a gunshot wound to her head.
"It's very hard not having her here to enjoy all the fun. I miss the times we shared together," Stewart-DePriest said.
In January, charges were dropped against three men charged with the girl's murder.
"I just don't cry any more because I know there is a God and I know eventually the people who killed my granddauaghter will be caught," Stewart-DePriest said.
Thursday's bittersweet celebration was a chance for family, friends and neighbors to laugh and focus on the "shining star" gone too soon.
"I'm at peace and I know she's looking down," Machole's grandma said.
"I could feel her. At the end of the balloon release a rainbow filled the sky and I feel like that was from her saying thank you," said Eviannah Daniel, Machole's cousin.