This is an archived article and the information in the article may be outdated. Please look at the time stamp on the story to see when it was last updated.
LAWSON, Mo. — Hundreds gathered Thursday afternoon in the town square in Lawson to remember 17-year-old Dylan Hedges.
Questions remained about how he died at a rural Ray County home less than 24 hours before the gathering. As of Thursday evening, investigators aren't releasing any details about his death, but friends and family said he was shot and killed in what could turn out to be an accidental shooting.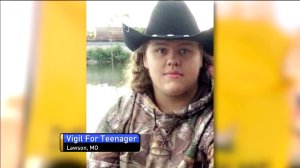 Amid the hugs and tears, friends described Hedges as a country boy with a big heart and an even bigger sense of humor.
"I loved working with him," friend Seth Kohler said. "I loved hanging out with him. He always made everyone laugh."
Hedges had attended Lawson High but was no longer enrolled. Friends said he worked in a scrap yard.
"He just made everybody's day," Marlys Lindsey said. "He knew how to put a smile on everybody's face. Even if he didn't know you, he was there to make you laugh."
It appears he was at a friend's house on W. 202nd St., a gravel road off C Highway. Paramedics were called to the property around 5 p.m. Wednesday afternoon for a shooting. The victim, identified by family as Hedges, didn't survive.
The Ray County Sheriff's Office has asked for the Missouri State Highway Patrol's assistance in the investigation.
During the prayer vigil there were also prayers for whoever had the gun and the teens who witnessed his death.
"That would just be tragic — to have to live with, to even think about the rest of your life," Chay Baker said. "We don't leave the others out of prayer."
With Hedges' beloved Gasden flags with the phrase, "Don't tread on me" whipping in the wind, friends said a special prayer for one of the people who might take his death the hardest.
"Dylan was the worst at giving advice, but he was the best at being there," his 12-year-old little sister Rebecca said.
Friends plan to wear camoflauge to Lawson High in his honor Monday.