This is an archived article and the information in the article may be outdated. Please look at the time stamp on the story to see when it was last updated.
WARRENSBURG, Mo — There was a heated debate Tuesday night over a cattle feedlot and processing plant's planned expansion after an estimated 600 people showed up for a public hearing.
The public hearing over Valley Oaks Steak Company's planned expansion was held Tuesday night in Warrensburg. Hosted by the Missouri Department of Natural Resources, the hearing was focused on a potential State No-Discharge permit for the Long Jack company.
The permit would Valley Oaks Steak Company to operate a concentrated animal feeding operation and expand their company.
"Our state government is not working for the people," one woman said Tuesday night while addressing the DNR.
"If this is approved, Lone Jack will be the toilet bowl of Missouri," one man added.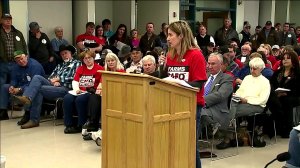 Valley Oaks Steak Company currently has about 900 head of cattle. The company has applied for an operating permit for a Class IB CAFO, which would allow it to move forward in building six additional facilities that would house nearly 7,000 cattle on 400 acres.
Opponents fear the large-scale operation will cause public health concerns like disease transmission, contaminated water and poor air quality.
"I'm not real thrilled because 6,000 cows produce a lot of waste — those in the ground and in the air, so I think it's going to be a huge negative attraction," said Matt Knehans, who lives near the facility.
Tabitha Schmitt, CEO and president of Powell Gardens, which is located about four miles from Lone Jack, is also concerned about the economic and environmental effects an estimated 100,000 tons of manure will have on the botanical garden and community.
"Air particulates is concerned. Odor, of course, would be a big concern because it would very much hurt the experience out here," Schmitt said. "We are pro-farm, and I think there's a misconception that we are anti-this CAFO. The location is the concern."
Supporters argue the addition will boost the local economy. At a press conference held hours before the hearing, the Missouri Cattlemen's Association endorsed the expansion.
"I think they've done their market research and feel like there's a demand for the problem," said Bruce Mershon, MCA Region 5 vice president. "This family is investing their dollars in this project and provided jobs to our local community."
The DNR said Valley Oaks will be required to build storage for the manure that can protect against a 100-year flood. It will be handled as dry manure and can be applied to agricultural fields as a fertilizer. The DNR also said the company's CAFO must meet the buffer zones put in place to protect nearby neighbors.
Mershon said he's confident Valley Oaks will meet the requirements set by the DNR to obtain the permit.
"There is zero runoff with this project," Mershon said. "It's all under roof, so there is no water contamination possible with this. Floors are concrete, so there is nowhere for the manure to go."
The DNR has 90 days to decide on the matter. The agency said it will continue to take comments for the next "several days." You can submit emailed comments to greg.caldwell@dnr.mo.gov.