This is an archived article and the information in the article may be outdated. Please look at the time stamp on the story to see when it was last updated.
TOPEKA, Kan. — For hundreds of Kansas National Guard troops headed to Kuwait, it was an emotional farewell to friends and family Friday at a ceremony in Topeka.
Many of them have regular jobs, but it's their job with the the Kansas National Guard that's taking them more than 7,000 miles from home. The troops are going to be working on Operation Spartan Shield, which targets threats of terrorism and extremism.
"It`s tough. It`s scary," Brandon Fields said. "It`s my first time going out of the country. I've never done that before, so mentally it`s taking a toll on me. But I`m ready for it. I`m ready for it."
Fields is ready like hundreds of his brothers and sisters in the Kansas National Guard.
"I told myself that I`m going to come back no matter what, and I`m going to do everything I can to make sure everyone who is with me there is safe, and I come back safe as well," he said.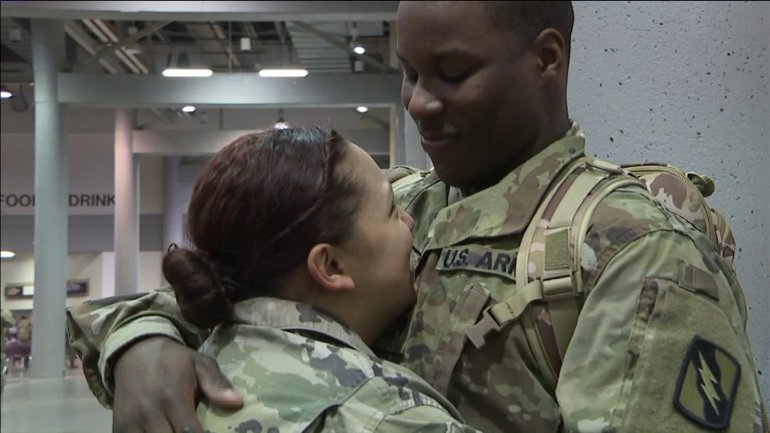 He wants to make sure he's coming home to his family, son and girlfriend he's leaving behind.
"He's worked hard for it," Fields' girlfriend Marissa Ortiz said. "We all knew that this day could come at one point, and it`s good to know that he`s going to be over there supporting the United States, as well as Kansas."
Fields and Ortiz are both in the National Guard, but only one of them is shipping out to Kuwait.
"I just want her to know that I love her, and I`ll come back safe," Fields said.
Coming home safely is also a priority for Jacob Stevenson, a husband and father of four.
"I've been wanting to deploy for six years, but now that I have a big family it's kind of harder," he said.
His wife Missy Stevenson is sad he has to go but knows it's what he loves to do.
"I'm proud that he smiles when he puts the uniform on," she said. "He walks straighter. His self confidence goes up, and he's a part of something bigger, and he knows that."
Missy Stevenson has one hope for his year long deployment: He makes it home.
"I love her unconditionally, and I love her even though I`m on the other side of the world," Jacob Stevenson said.