This is an archived article and the information in the article may be outdated. Please look at the time stamp on the story to see when it was last updated.
WYANDOTTE COUNTY, Kan. – There aren't enough foster parents to care for children needing temporary homes in Wyandotte County, according to child welfare services.
KVC Kansas, a private nonprofit child welfare organization, is responsible for finding foster homes for children in 30 counties across Kansas. Kelli Hans Reid, communication director for KVC, said Wyandotte County is currently the most troubling.
"We've never needed foster parents more than we do right now," Hans Reid said. "In Wyandotte County, there are 658 children in foster care, but we have less than 200 beds for those children."
Data from the Kansas Department of Children and Families shows an upward trend in the number of children in the county needing stable homes, due to neglect or abuse, over the past five years. The goal is to keep them as close to their home communities as possible.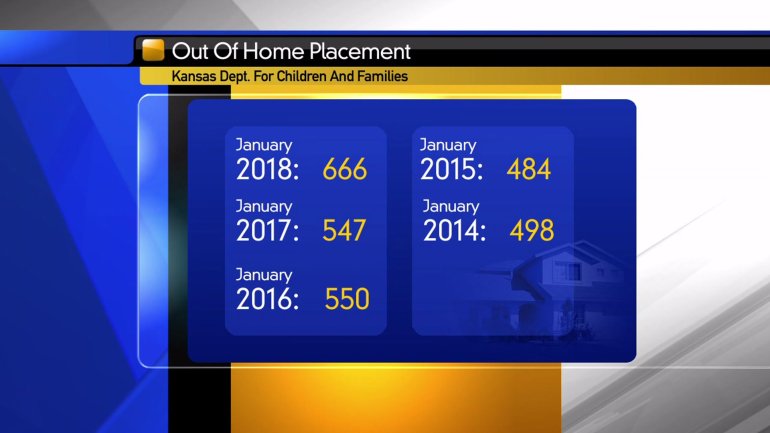 "Many children who come into foster care in Wyandotte County (are) due to parental drug abuse," Hans Reid said. "We want to minimize the amount of change that's happening with those children by keeping them in their communities."
Rick and Kelly Patterson have taken in more than 200 foster children in the last decade. The couple admits it's hard when a child comes into their home angry, broken and traumatized
"Are there challenges?" Rick Patterson asked. "Sure. Have we had things broken? Sure. But you must figure it's also coming from a broken child. So if we can help put that kid together, things can be replaced."
The couple, who is currently housing four foster children in addition to their biological children, said despite the challenges, the experience is more positive than negative.
"You're able to make a difference in their life, and then you're able to send them back to a new healthy home," Rick Patterson said.
According to KVC Kansas, children who are most in need of a home are between the ages of 10 and 18. The goal is to have them return to their biological parents within a year. If a child cannot return to his/her biological parent, KVC Kansas tries to find them an adoptive parent within two years.
"It's not easy, and it's very challenging, but if you focus on the love and stability you can give that child and make a difference in their life, they will remember you forever," Hans Reid said.
To learn more about becoming a foster parent, visit KVC's website.