This is an archived article and the information in the article may be outdated. Please look at the time stamp on the story to see when it was last updated.
CLINTON, Mo. -- Hundreds attended a candlelight vigil for fallen Clinton Police Officer Gary Michael on Wednesday night. Officer Michael died in the line of duty while working for the Clinton Police Department.
In addition to the vigil, residents and community members are showing support and unity in other ways throughout the community.
"Every place I could find, I put [blue] tape on it," said Clinton resident Elizabeth Preece.
The Preece home, along with several others in her neighborhood are adorned with blue tape in remembrance of the fallen officer.
"[I did it] to show my respects for him and the family, and the other law enforcement," Preece explained.
Lisa Ireland says she met officer Michael not too long ago when he was responding to a call in her neighborhood.
"He was over there like all day. He was talking to us like he was one of us. You could tell he just really loved his job and he was just somebody like you and me, he loved to hunt, he loved to fish," Ireland explains.
Ireland also found another special way to remember the fallen officer though her appearance.
"I was doing blue [on my nails] as a tribute, and then my husband told me [Officer Michael's] badge number is 321 so I went and had 321 put on them to kind of like honor him," Ireland explained.
In addition to the personal tributes, a public memorial for officer Michael is growing outside of the Henry County Library. Some say these tributes are a reflection of the spirit of this small town.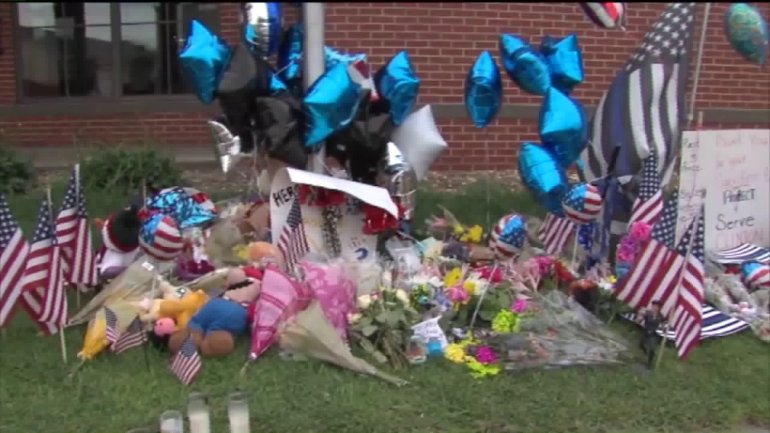 "It says that we are one, we're united and we all stick together when something like this happens," said Ireland.
An estimated crowd of between 800 - 1,000 people attended the vigil on Wednesday night.