This is an archived article and the information in the article may be outdated. Please look at the time stamp on the story to see when it was last updated.
KANSAS CITY, Kan. — Hundreds gathered Thursday morning at Children's Mercy Park to honor the two Wyandotte County Sheriff's deputies killed in the line of duty last week.
Theresa King and Patrick Rohrer were shot and killed last week ago by an inmate during a transport from court back to jail.
Rohrer died Friday at the age of 35. He leaves behind a wife and two small children. King died early Saturday at the age of 44, leaving behind three children.
The funeral for both deputies began at 9 a.m., and the public was invited to attend. Children's Mercy Park was packed with law enforcement from across the country and people from around the metro.
It was an emotional overload inside the stadium. Chaplain Ken Nettling officiated the funeral. Wyandotte County Sheriff Don Ash, two of Deputy King's children, along with several other people spoke at the funeral.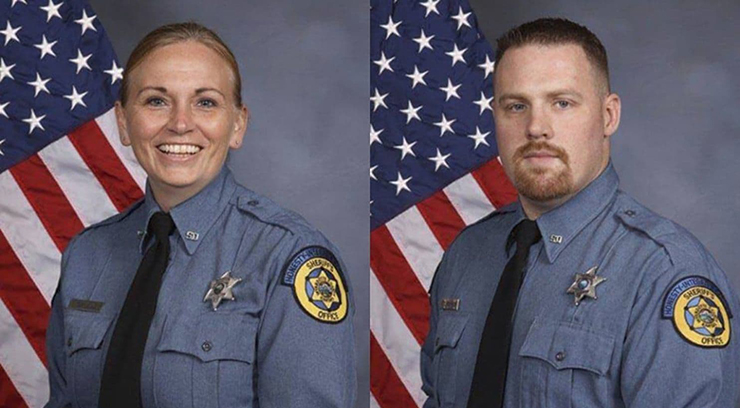 Family and friends shared poignant memories of the two heroes, reinforcing the truth that thank you is not enough.
"Theresa and Patrick literally put their lives between a cold blooded killer and the citizens they swore an oath to protect," Ash said. "In the Holy Scriptures, Jesus told us, 'Greater love have no man than this, that he would lay down his life for his friends, the love that makes that kind of sacrifice is the greatest love of all.'"
"They fought and they continued to fight until they couldn't fight any longer — because that is what they were called to do," said Max Sybrant, president of the Fraternal Order of Police, Lodge 40.
King's adult children took the stage, and instead of addressing the crowd, King's daughter read a message to her mother.
"Mom, you were the goofiest, silliest most fun loving woman I have ever known," Bailey King said of the woman who was known as a favorite in Wyandotte County. "You have sacrificed so much of your time for others and in the end you sacrificed, you made the greatest sacrifice that anyone could make and you did it proudly."
Then, it was Rohrer's turn for recognition. A lifelong friend said Rohrer and King were quite a lot alike.
"Pat's goofiness was his strength. He was never afraid to be himself. He was never afraid to show his exuberance for life, for interests, for hobbies. He was incredibly proud of his family," Rohrer's friend said. "I know I will see him again. He was my hero. At the end of this, I am going to be able to look him in the eyes and say I tried. I love you man."
In addition to the speakers, King's family requested that Alan Jackson's "I Want to Stroll Over to Heaven With You" be played. Rohrer's family requested that Josh Groban's "Raise Me Up" be played. Det. Damon Vaughn, who has sung the police version of the song at other law enforcement funerals, performed "Amazing Grace."
Bagpipers, the 21-gun-salute, taps and the riderless horse were other moving parts of the emotional service. After the service, the deputies' families went to the funeral home for a final, private goodbye.
Many of the people who attended the service didn't know the two fallen deputies, but they all had one factor in common: a respect for law enforcement.
"These are, I mean, our neighbors. You, they are people who patrol our county. They are friends and neighbors," Stephanie Adams from KCK said.
"It's pretty sad the way things are going nowadays with negative vibes on police officers anymore. That's sad," said BJ Snow from Topeka. "They are here to protect us and serve us. A lot of people don't realize that."
Officers traveled from as far away as Colorado and Iowa to honor the deputies, and some said the funeral should remind all of us that those who wear a badge are people, too, with families that care about them.
"They should just put themselves in law enforcement's place and see how it would make their family feel if it happened to them," Steve Rishel from Topeka said.
While many in attendance knew the deputies personally, others who took time to honor them say they too feel the pain of this loss.
"My dad was a police chief for 37 years, so there`s a very special place in my heart for law enforcement," said Dee Smith from Prairie Village.
You can watch the entire service in the video player below.
Below you can read the words King's daughter Bailey spoke:
"Mom, this feels like a bad dream, and right now, I want to wake up. I want to drive to your house to find you asleep in your chair like I did so many times before. I want to wake you up, hug you, and tell you how much I love you. But this isn't a dream, and I know that you're not at your house. I know how you hate to see Austin, Lexi and I in so much pain. Everything you did, you did for us. I know being a single mom wasn't easy. I know working 80 hours was never ideal, but at the end of you still came home, you still made us dinner, still took care of us. You did what needed to be done to make sure that we were taken care of.  I'm sorry we didn't always see that. I'm sorry that at times we were selfish. You are and have always been our biggest hero — now the entire world knows that. They know you were an amazing deputy, who loved your job almost more than anything else in this world. They know that you would give the shirt off your back—the last dollar in your wallet — to anyone who needed it. You were the mother hen that looked after anyone you could. You looked after the people in your office, the people in the courthouse and even the inmates. You treated everybody the same. Mom, you were the goofiest, silliest, most fun-loving woman I have ever known. And you have sacrificed so much of your time for others. And in the end, you sacrificed—you made the great sacrifice that anyone could ever make, and you did it proudly. I know you're up there and you're looking down on us and you're smiling, but mom you have prepared us. You have instilled your strength in your three kids, and we will do our best to make you proud and spread your warmth and generosity, and to honor your memory. We miss you. Your family misses you. Your brothers and sisters in blue miss you. Fly high mom, I'll be seeing you."
The procession after the funeral back to the funeral home included as many as 500 vehicles. See video of that procession in the video player below.
Below are images of both Deputy Rohrer and Deputy King's funeral programs.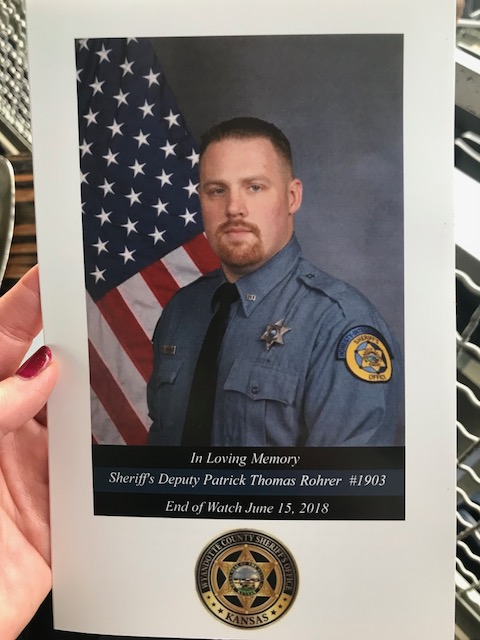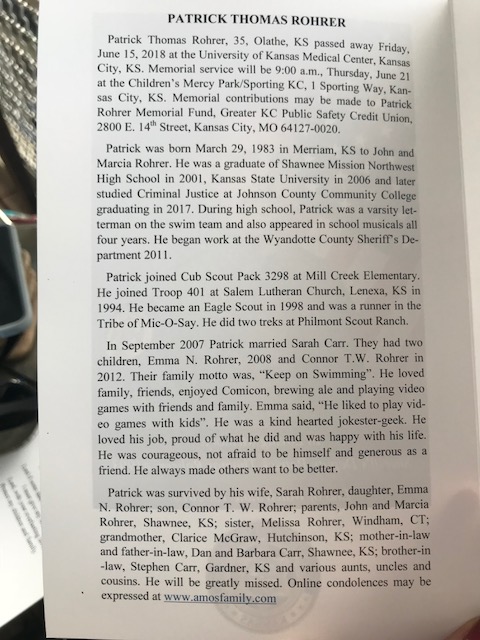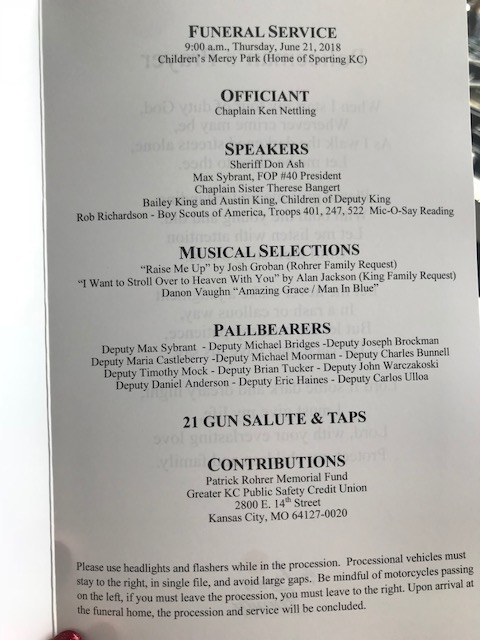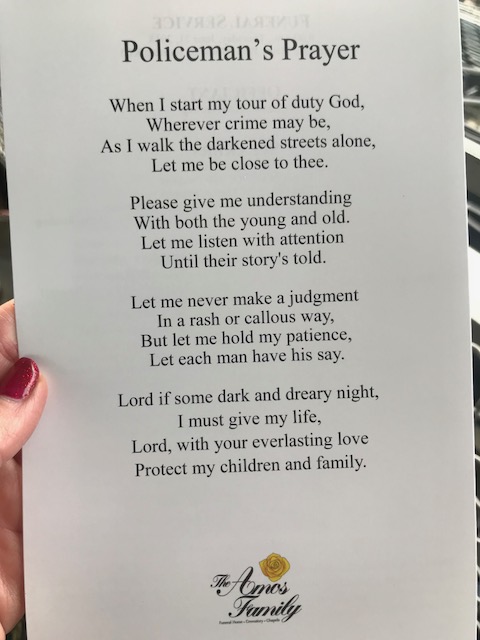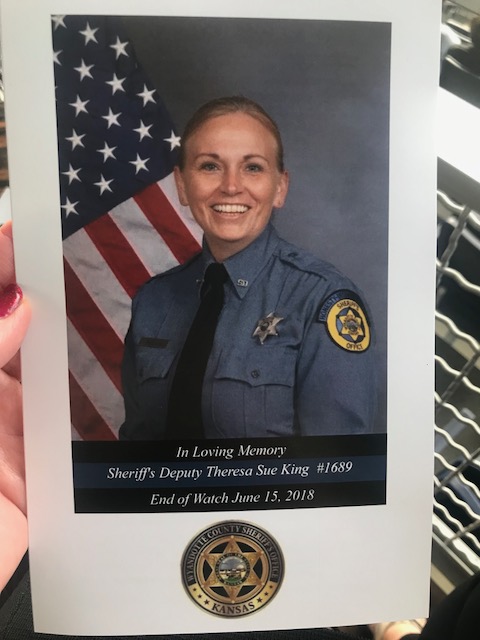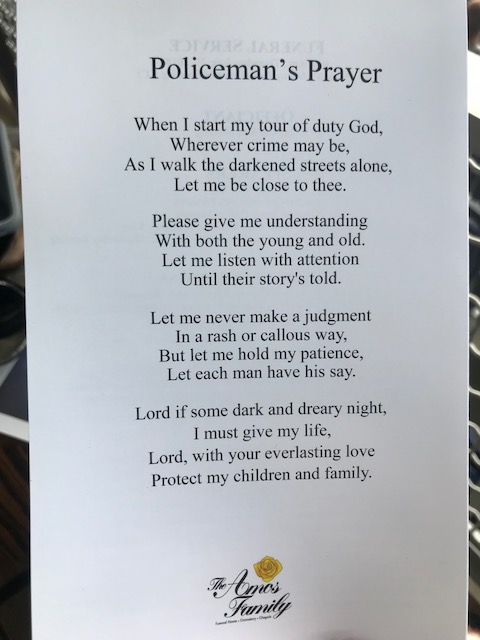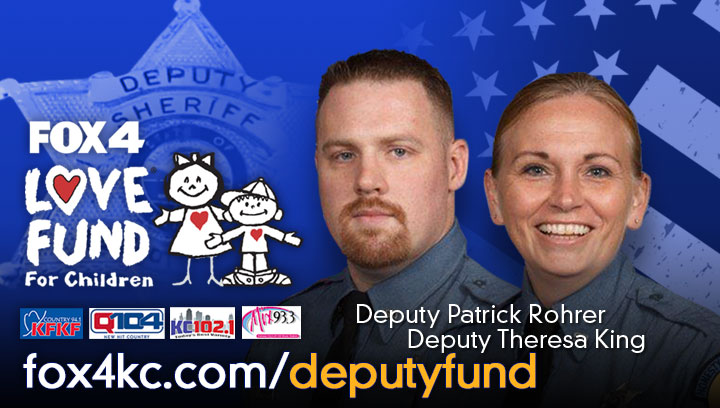 FOX4, the Love Fund for Children and Steel City Media, are raising funds for the children of Kansas City's fallen heroes. Because The Love Fund for Children is committed to fulfilling the unique, unmet needs of children across Kansas City, we embraced this opportunity to stretch our mission and offer our support.