This is an archived article and the information in the article may be outdated. Please look at the time stamp on the story to see when it was last updated.
DEARBORN, Mo. — Interstate-29 near Dearborn was shut down Friday because a man in a semi truck at a rest stop was armed with a gun, and was reportedly waving it around, pointing it at drivers on the interstate.  The situation began between 9:30 and 9:45 a.m., Friday and ended at about 1:05 p.m., when the man simply came out of the truck and surrendered.
However, for more than three hours, the interstate was shut down and the rest stop at Old Pike Road was evacuated because of the danger. Drivers were being diverted off the interstate, which caused substantial delays and backups. Southbound lanes were closed at mile marker 30, northbound lanes were closed at mile marker 24.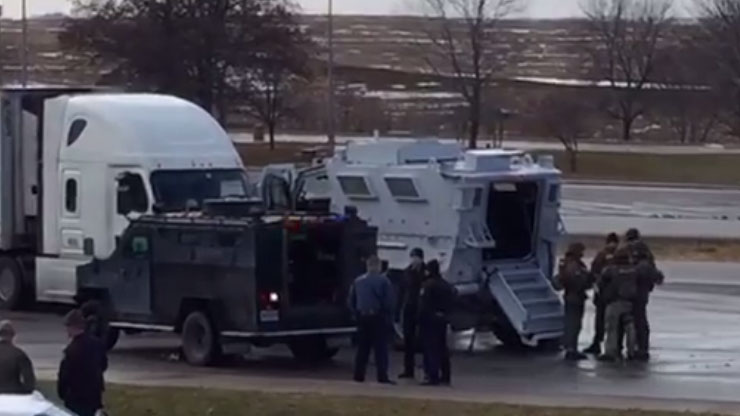 Authorities say they became aware of the situation when others at the rest stop called to report a man in the semi-truck with a gun.  The only people who remained at the rest area at the noon hour were troopers and the gunman.
"He's not making any kind of response whatsoever so we're just trying to figure out who he is, in hopes that if we can get a name and some kind of rapport with him and getting some kind of resolution with this," said Sgt. Bill Lowe with the Missouri Highway Patrol during FOX 4 News at Noon.
He said there had been no gunfire and added: "We're wanting it to remain that way."
According to the Missouri Highway Patrol, the driver got out of the truck one time during the ordeal. Still armed with the rifle, he got out to urinate in the grass. Authorities say he did not communicate with negotiators. SWAT tried several tactics to get him to respond, including a flash bang, bumping the truck with the armored vehicle, but negotiators could not engage him.
They tried a final tactic, one which negotiators would not describe, to get the suspect to get out of the cab, and it worked.
The interstate reopened at approximately between 1:30 and 1:40 p.m.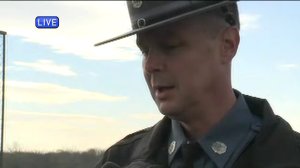 "We aren't sure what his intentions are at this point, so we don't want to put anybody else in danger," Lowe said shortly before the standoff ended. "Even though it is at the rest area and it's on the opposite side of the southbound traffic, it could still affect southbound traffic as they come through," said Sgt. Lowe.
Troopers were diverting traffic off I-35 to 371-Highway, but that highway had become quite congested. If drivers were just starting out, troopers asked them to take Interstate-35 to Highway-36.
Brian Giles, from Basehor, Kan., messaged FOX 4 on Facebook, saying he was at the Dearborn rest stop Friday morning around 9 a.m., on his way to work in St. Joseph, when the police activity began.
Giles says he was using the restroom when Missouri State Troopers and Platte County Sheriff's deputies came in with assault weapons and told him to leave because there was a man in the parking lot threatening suicide.
Another man FOX 4 spoke to is moving from Kentucky to Idaho. He said at about 5:00 a.m., he saw the rest stop and pulled into it to get a quick nap.  Then at about 9:30, he, his wife and daughter were awakened.
"We hear somebody beating out side of the door. I opened the door. It was an officer. He really didn't really give us any information, tell us nothing, just said, 'Come on. We gotta get y'all someplace safe.' I was thinking it was bad weather or something like that. I started getting our stuff, and he said, 'No. Come on. We gotta go. We got a situation.' I grabbed my daughter, got my wife. Got just the very few things that was laying on the counter and I asked him what was going on and he said, 'We got a guy with a gun in a truck,'" said Brennan Willoughby.
Willoughby said authorities took him and a handful of others at the rest stop into a building in the center of the rest stop. Then a few minutes later trooopers evacuated them to a nearby gas station. He said there weren't many people at the rest stop at the time.
The iPhone map app shows both directions closed as drivers approached the vicinity and would be within firing range. At 11:00 a.m., traffic was backed up for miles.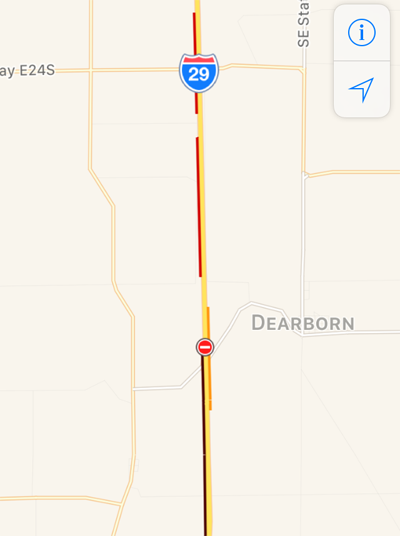 FOX 4 will have a crew on the scene and update this story and during our newscasts.