This is an archived article and the information in the article may be outdated. Please look at the time stamp on the story to see when it was last updated.
KANSAS CITY — Kimberly Qualls with the Kansas Department of Transportation has announced that all lanes of SB I-35 have reopened as of 5 p.m. The lanes were expected to be closed until 5:30, but that has been amended. Delays are still expected as traffic slowly picks up speed.
#KCTRAFFIC UPDATE! NOW OPEN! As of 5pm, all lanes of SB I-35 @ I-635 NOW OPEN to all traffic. Expect delays due to traffic backups.

— Kimberly Qualls (@kkqtopeka) February 18, 2014
Crews closed the southbound lanes of Interstate 35 at I-635 to remove a damaged overhead sign structure. KDOT says that a car went off the right side of SB I-35 at about 3:20 p.m. and struck a pole leg that supports the sign between exit 231 and 232.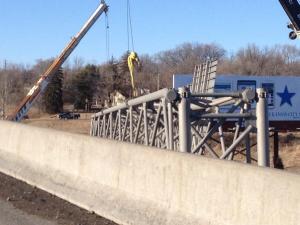 You can keep up with traffic in real-time for any other delays around the metro at this link.