This is an archived article and the information in the article may be outdated. Please look at the time stamp on the story to see when it was last updated.
KANSAS CITY, Mo. — Ruskin High School senior Tomiese Wyatt has endured a long road to get to graduation day, but it's been a journey worth the ride.
"Just finishing and being surrounded around all the people that love me and that I love," the 18-year-old said.
Tomiese was born with sickle cell anemia, a condition that her mother Michelle Ndiaye said has taken a toll on her body but not her spirit.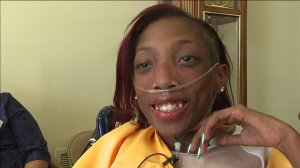 "Very special, amazing. God willing. It's been a journey. Tomiese is definitely a fighter to get through this," Ndiaye said. "She has spent maybe over half of her life in the hospital. Tomiese is strong in her faith. She's spiritually grounded. She knows that her fight was given to her for a reason. She's taught us all. Our strength has been strengthen through Tomiese."
Tuesday's graduation ceremony was held at Children's Mercy, were Tomiese had been receiving treatments for her illness since birth, to ensure Tomiese, her family, and hospital staff could share in her accomplishment. Doctors at Children's Mercy said future treatments could force Tomiese to miss her class graduation in May.
This was Torrence Allen's first as Ruskin High School principal, and he said it will always be the most special.
"This all came together within a 72-hour period," Allen said. "I didn't think it would be this big or this exciting. We just thought it would be a small ceremony, but it took on a life of its own, and we are so excited about it."
But he's not nearly as excited as Tomiese is to finally say, "I did it."
If you want to help the family with their health care costs, please send your donations to the Hickman Mills C-1 School District, 5401 E. 103rd St., Kansas City, MO, 64137, Attn: Shellie Wiltsey with the memo line as "Tomiese Wyatt."