This is an archived article and the information in the article may be outdated. Please look at the time stamp on the story to see when it was last updated.
KANSAS CITY, Mo. — "It started out as a good night. It was a meeting for all kinds of professionals around the Kansas City area. We had seen him throughout the evening, walking around with his camera. You know he was full of life, talking pictures. A very nice guy, " Chris Johnson, a Kansas City native, author and scientist who currently lives in Los Angeles. Johnson, who's currently on vacation, says he went to Californos Restaurant in Westport for a professionals' meeting.
However, just as the event ended around 8 p.m., police said chaos broke out inside the popular restaurant after two men apparently had a fight. Moments later, gunshots rang out.
"I heard at least three gunshots. Everybody started running and making their way to the exit. I was pushed towards the exit, but then I turned back around and headed back into the gunfire to find out what was actually going on. When I went back in, I found a young lady injured and three people were tending to her and then I saw the young man slumped over on the floor," recalled the 39-year-old Johnson.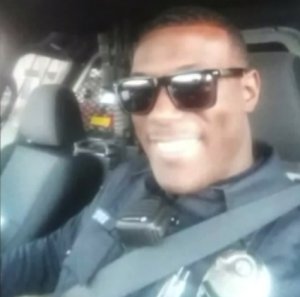 Johnson later learned the bleeding man on the floor was Lee's Summit Police Officer Thomas Orr, III. 
FOX 4 has learned before he was shot, Officer Orr was off duty at the time, enjoying his hobby as a freelance photographer and taking pictures during the Californos event for social media.
"I noticed one bullet wound to his right shoulder. The back of the right shoulder. Several people started to help me administer aid to him. We put towels on his shoulder to keep pressure on the wound. As one of the young ladies was holding pressure, another young man was helping me put ice-filled towels on him. The staff at Californos was very supportive. They kept bringing us everything that I was requesting," Johnson said.
Johnson's top priority: do everything he can to comfort the 30-year-old wounded officer.
"The young man was looking at us, so I had eye contact with him and I said, 'you stay with me! You just stay with me.' I'm thinking this guy's gonna pull through," Johnson said.
Sadly, Officer Orr, on the Lee's Summit Police force for just two and a half years, died.
With a choke in his voice, Chris Johnson remembers those heartbreaking moments that followed.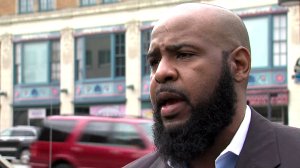 "As soon as I let his hand go, rather his wrist go, that's when I believe he faded out. It hurts me to reflect on it. I'm now getting all these phone calls and people are telling me how brave I am and I don't believe I was brave because we lost him. I just was doing what any human should do. We all should care for each other. I just wanted to save his life," said Johnson, who spent several hours at the shooting scene talking to Kansas City police officers what he remembers about the shooting — a moment Johnson will never forget.
"I felt so sad because that officer lost his life. Again, I just tried to save his life not knowing he was a police officer. One officer did comfort me a bit when he said 'thank you for all you did,'" Johnson said.
Meanwhile, police said there were more than 200 people inside the popular Westport restaurant when Orr was shot. However, investigators said so far only a handful of witnesses have come forward.
Police told FOX 4 as of Tuesday, they had only talked to ten witnesses.
"We need people to step up and help us with this one. We need people to tell us what they saw or what they heard. We want any witnesses to understand that we are here to protect them as we try to locate the person who shot and killed this officer," said a frustrated Sergeant Kari Thompson, a spokesperson for the Kansas City Police Department.
"We also want to extend our condolences to the officer's family and the entire Lee's Summit Police Department," Sergeant Thompson added.
Anyone who has any information that can help police with the Orr shooting investigation is urged to call the TIPS hotline at (816) 474 – TIPS.
Previous coverage: