This is an archived article and the information in the article may be outdated. Please look at the time stamp on the story to see when it was last updated.
KANSAS CITY, Kan. -- Many people didn't think Angela Owens would survive, but the KCK mom defied the odds.
"I just think I am lucky to be alive. I am a miracle," Owens said Monday during an exclusive interview with FOX4.
The 38-year-old said she's doing well considering less than a month ago she suffered life-threatening injuries. Owens left the hospital Tuesday and went home.
"Better now that I'm home with my kids," she said.
But her daughter said her mom is a miracle.
"She's more than that. She's Gods gift, so it's a gift for her to be able to stay here with us," said Owens' daughter, Hannah Bohlken.
Owens told police that Ryan Bright, her ex-boyfriend, intentionally ran her and her fiance, over with his minivan on June 15. Police later arrested Bright a mile away. He's now facing charges.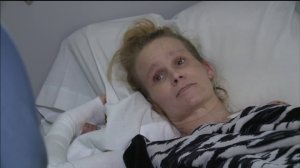 "I just remember being pinned between the bike and the van," Owens said. "I was scared when my fiance was going down the one-way street, trying to get away from him. I was crying, 'Just let me off of here, let me off of here,' but my fiance was like, 'Not until I get you safe.' It was so terrifying."
Owens said Bright purposely ran her and fiance over three times because he was angry the couple was engaged to be married.
"The last thing I remember is getting loaded up on the ambulance," she said.
The mother of six was suffered a fractured pelvis, broken arms, broken legs and a severe back injury and will now have to learn how to walk again. Owens said her physical therapy could last at least six months.
Owens didn't see the alleged attack coming.
"Ryan had recently got into a new relationship, so I figured he would move on -- but obviously not. I never thought a man I loved for six years, the father of my daughter, would do this to me," Owens said.
Last year, more than 8,000 individuals in crisis called Rose Brooks Center in Kansas City.
"The most dangerous time for victims of domestic violence is when they've left that relationship. It's when the violence escalates," said Scott Mason, a spokesman for Rose Brooks Center.
One in 4 women in the U.S. will experience domestic violence at some point in their lifetime.
"We have extensive community programming with the Kansas City Police Department, the hospitals, the schools, the courts, and we do this because we cannot eradicate domestic violence on our own," Mason said.
In the meantime, back at her mother's home in KCK, Owens is just grateful she survived and now prepares for a long road to recovery.
"I never gave up. The pain in my foot hurts the most because of the rod that's in it. I cannot put any pressure on my legs. I even need help going to the bathroom. It's so hard, but like I told my aunt: I have my mother and grandmother's blood, and I will get better. I will walk again," Owens said.
If you or someone you know has experienced domestic violence, there is help. You can call the citywide hotline 24 hours a day at 816-HOTLINE (816-468-5463).