This is an archived article and the information in the article may be outdated. Please look at the time stamp on the story to see when it was last updated.
ALEDO, Ill. — When it comes to battling cancer, it's good to know others are fighting with you.
"This is Alli's fourth cancer now, she kind of surprised us," says Missy Adams, mother of cancer patient Alli Adams.
"We are getting as many people together today to let her know she's not alone and that we all care," Missy explains.
Alli was diagnosed with cancer in November 2018 for the fourth time in her mouth, WQAD reports.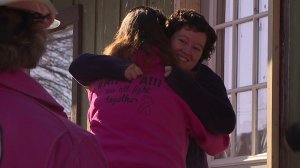 "The day I saw her post on Facebook she had cancer for the fourth time, I got a hold of her mom," says Morgan Welch who thought of the idea to bring Pink Heals of Sauk Valley Chapter to Alli's house.
"We are all going to make Alli smile today," comments Missy.
Alli was first diagnosed with cancer when she was two. It would eventually turn into a battle all her life after she was told she has Li-Fraumeni Syndrome – a gene passed on from her father who passed away from brain cancer when Alli was only one. The syndrome can be passed from generation to generation.
Alli is ready to fight again, this time with her family, friends and a surprise from the Pink Heals. The group's mission is to go around to women fighting cancer and boost their spirits.
And with friends and family by her side, it's clear no matter how many battles Alli fights, she will always be supported.
"It means the world to me that so many people are behind me and love me and are hoping for the best," says Alli.
Alli will be expecting her first child this December after being told repeatedly she could never conceive children. She will then have surgery in her mouth in February. The process includes taking part of her jaw and teeth out to replace her jaw with bone from her leg.
If anyone is looking donate to Alli and her fight with cancer, they can donate at the Aledo "Circle K."