This is an archived article and the information in the article may be outdated. Please look at the time stamp on the story to see when it was last updated.
KANSAS CITY, Mo. -- Hundreds of people gathered on city hall's steps Thursday morning as part of a nationwide effort called "A Day Without Immigrants."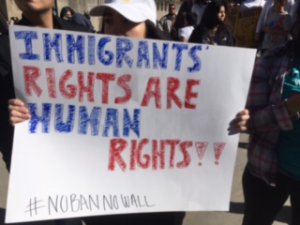 The peaceful march kicked off at 10 a.m. and lasted about four hours, much longer than originally planned.
Police tell FOX 4 that three people were arrested; one for blocking the street, one for assault for spitting on an officer and another for interfering with the arrest of the accused-spitter.
At about the 34:53 mark in this video, you can see people at the march begin walking swiftly toward the commotion. The man in the truck was given a ticket and the crowd begins chanting 'Let him go!' but he proudly shows the crowd his ticket.
At about the 44:00 mark, you can see another man being taken into custody and the crowd reacting. At about the 48:00 mark, you can see police arrest someone else.
The marchers are calling for an end to Pres. Trump's immigration crackdown. They represent a number of local businesses, most in the Latino community -- largely the targets of the raids by Immigration and Customs Enforcement agents.
Most of those businesses closed today so their employees who are immigrants could take part in the march, as well as to show the impact that immigrants have on the Kansas City community.
Shawn Delgado said he organized the march. He said it was easy to spread the word on social media. Delgado believes their message will be heard in Washington, D.C.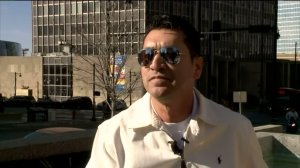 "It's a peaceful march. What we want to do is show the government that we immigrants, we have rights and we can have the opportunity to be here, like I said, and bring more economy to this country," Delgado said.
He asked for participants to not only refrain from working during the strike, but also shopping, buying gasoline and sending their children to school.
Delgado said as of now, there are no future plans for rallies, but that could change.