This is an archived article and the information in the article may be outdated. Please look at the time stamp on the story to see when it was last updated.
OTTAWA, Kan. -- Hundreds of people showed up in Ottawa Friday evening for a vigil to remember the victims in the Franklin County homicides. It comes just hours after prosecutors charged a suspect with four counts of murder.
Charges against Kyle Flack
Kyle Flack, 27, the man accused of murdering and raping a young mother and killing two other men, whose bodies were found early this week on an Ottawa farm, made his first appearance in court Friday in Franklin County.
He faces four counts of first-degree and two counts of capital murder. In addition to the murder charges, Flack faces one charge of rape and one charge of criminal possession of a firearm. Authorities say he raped Kaylie Bailey before he killed her.
The bodies of Kaylie Bailey, Andrew Stout and Steven White were found at Stout's farm earlier this week. The whereabouts of 18-month-old Lana Bailey, Kaylie's daughter, remain unknown.
CONTINUING COVERAGE: Franklin Co. homicide investigation
The Franklin County Prosecuting Attorney, Stephen Hunting, said the killer used a gun on all the victims. When asked why authorities were so certain Lana was dead, even though her body has not been recovered, Hunting said "Based on the facts and information that we have, we do not believe that she is alive."
But he said, "Mr. Flack has not indicated where Lana is."
Prosecutors also said Flack killed Steven White first sometime between April 20 to April 28. Bailey, her daughter and Stout were all killed at the same time, sometime between Aprril 28 and May 6, the county attorney said.
FBI agents returned to the scene on Friday to search for the body of little Lana Bailey. Investigators used a mounted horse patrol team from Shawnee County and ATVs to search the massive crime scene.
"It's very difficult that's why we have all terrain vehicles, horses," said Franklin County Sheriff Jeff Richards. "We also have dive teams in the areas that you'd imagine, ponds, rivers, creeks."
Authorities were asked if there were any other suspects besides Flack.
"The law enforcement authorities who are investigating this are exhausting every possible lead," said Hunting. "Mr. Flack is the only suspect that has been arrested at this time."
Investigators would not comment on a motive for the crimes, saying the information could jeopardize the investigation.
The judge set his bond at $10 million. Flack will be back in court on May 13 at 1:30 p.m.
Flack was previously convicted and spent time in prison for the 2005 attempted murder of a man in his Ottawa home.
Fund set-up for little Lana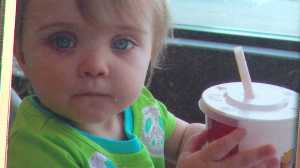 The grandmother of Lana Bailey, the 18-month-old daughter to Kaylie Bailey, has set-up a "Find Baby Lana" fund for future burial expenses.
If you would like to donate:
Unity One Credit Union
4150 Kansas Ave.
Kansas City, Kan. 66101
Fliers handed out Saturday to help find Lana
In addition, beginning at 8 a.m. on Saturday, relatives of the Bailey family will be in Ottawa outside the Walmart at Main and 32nd Streets handing out fliers with Lana's photo on them.
Follow FOX4KC for the latest Kansas City news, weather and entertainment:
iPhone/iPad App | Android App |  Facebook | Twitter | RSS | Email Alerts