This is an archived article and the information in the article may be outdated. Please look at the time stamp on the story to see when it was last updated.
OTTAWA, Kan. -- The man accused of murdering four people near Ottawa, Kan., appeared in court on Tuesday for his preliminary hearing in Franklin County.
Kyle Flack, 28, faces capital murder charges and a rape charge. Prosecutors say Flack raped and killed Kaylie Bailey, 21, killed her 18-month-old daughter, Lana, and also murdered two other men, Steven White, 31, and Andrew Stout, 30, on an Ottawa farm in April 2013.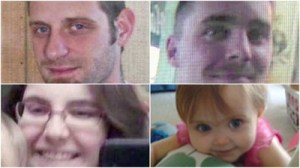 FOX 4's Shannon O'Brien was in Franklin County for the preliminary hearing and reported that Tuesday's proceedings included testimony from Franklin County Sheriff's detective Jeremi Thompson . (See more pictures from the courtroom below.)
Thompson testified that during an interview with Flack, that Flack told him it was Stout who actually first shot White.
Flack claimed to the detective that Stout and White, who lived together for a short period, got into an argument over rent. The detective said that after a second argument, Flack told him that Stout followed White outside with a shotgun in his hand and then shot White in the chest. The detective then testified that Stout handed Flack the gun, and the two covered White's body with a tarp.
FOX 4's Shannon O'Brien spoke with Flack's mother, who said her son has autism and lives in his own head. She did not want to go on camera but said she did not consider Kyle dangerous.
Prosecutors are seeking a hard-50 sentence for two of the murders.
The state appointed Ron Evans, a well-known Kansas capital murder defense attorney to defend Flack.
See pictures below from the courtroom on Tuesday.
Courtesy: Ottawa Herald

Flack and his attorney, Ronald Evans Courtesy: Ottawa Herald

Det. Jeremi Thompson, Franklin Co. Sheriff's Office

Michael McCoy, stepfather of Kyle Flack. Courtesy: Ottawa Herald

Carla Fisher, the mother of Steven White. Courtesy: Ottawa Herald

Courtesy: Ottawa Herald

Sgt. Robert Turner with Emporia Police Dept. Courtesy: Ottawa Herald
CONTINUING COVERAGE: Four slain in Ottawa
Earlier reports: