This is an archived article and the information in the article may be outdated. Please look at the time stamp on the story to see when it was last updated.
TONGANOXIE, Kan. —  Tyson Foods has issued a letter to the Tonganoxie community, saying the company will put on hold its plans to build a new plant there, after Leavenworth County Commissioners rescinded their support Monday amid protests and frustrations from residents.
Commissioners took back a "resolution of intent" that pledged $500 million in revenue bonds to build the plant.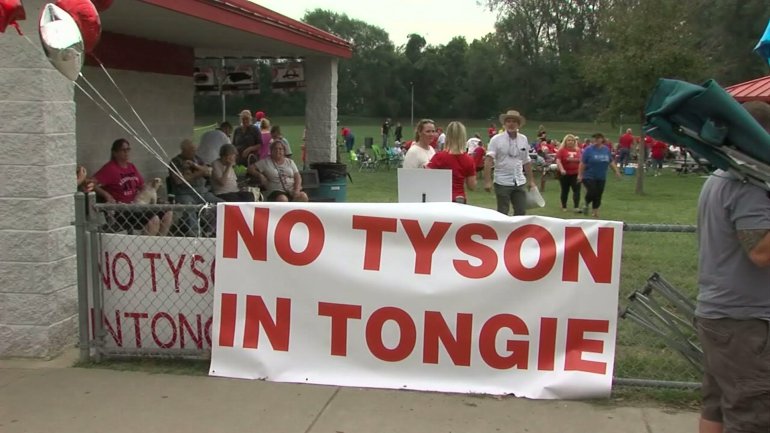 Since Tyson made the announcement two weeks ago, residents have strongly resisted the plant. Those residents were worried about pollution, smells and bringing a lot of people to a rural part of the metro.
In the 'Open Letter from Tyson Foods to the Leavenworth County Community', Tyson explained from their perspective how everything unfolded.
We were invited by state and local leaders to build a new $320 million poultry complex in your community. They encouraged us to come to Leavenworth County. In a show of support, the county commissioners unanimously approved a resolution to use industrial revenue bonds for the project. We saw this shared investment, and the $150 million in annual economic impact it would have, as a win for the company and the people of Leavenworth County.
The letter continued… saying:
We'd still like to get to know each other, however, after Monday's reversal of support by the Leavenworth County commissioners, we will put our plans in your community on hold. We still have interest in Leavenworth County, but will prioritize the other locations in Kansas and other states that have expressed support.
Earlier, Tyson said it would be evaluating what to do next: "We're disappointed by the commission's reversal on revenue bonds. The commission's prior approval was part of state and local efforts to persuade Tyson Foods to locate in Leavenworth County.  It was one of the factors we considered when determining where to locate our new poultry complex. We're evaluating our options in light of today's vote."
According to the letter that came later, the project, which they described as one they're 'deeply passionate about' will be put on hold. "We still have interest in Leavenworth County, but will prioritize the other locations in Kansas and other states that have expressed support."
For the complete letter, Click Here