This is an archived article and the information in the article may be outdated. Please look at the time stamp on the story to see when it was last updated.
KANSAS CITY, Kan. – One person is dead following a chase along I-35 late Thursday morning.
According to FBI spokesperson Bridget Patton members of the U.S. Marshals service, Kansas City police, and FBI agents went to execute a search warrant Thursday morning in Gladstone. Before executing the warrants, the officials saw two men matching the description of the suspects leave a home. The U.S. Marshals tried to pull over the men, which began the chase.
The Marshals Service pursued the men in downtown Kansas City, where one suspect bailed out near the City Market area. Patton says that suspect was apprehended by Kansas City, Mo. police officers in the 300th block of Admiral Blvd. and was taken into custody.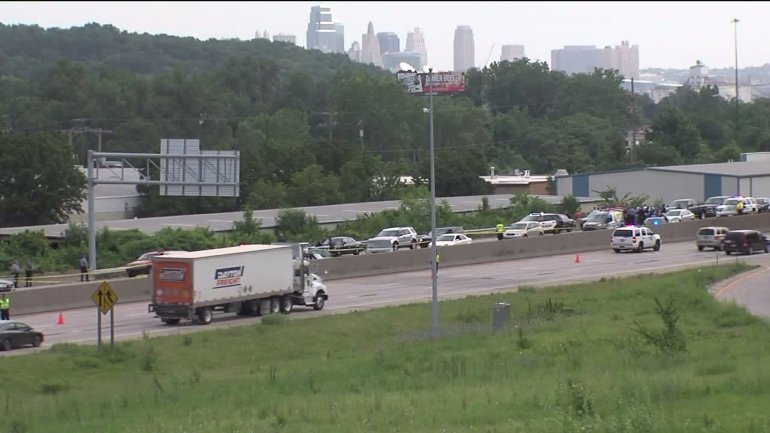 The chase continued into Kansas where the suspect vehicle broke down along I-35 near 18th Street after losing a wheel. The armed suspect fled his vehicle and at some point there was gunfire.  Patton did not say whether the suspect fired on the marshals first or whether the suspect ever fired his handgun.  The Marshals opened fire when they felt threatened and shot the armed suspect, Patton said. The suspect was transported to an area hospital where he was pronounced dead.
Kansas Highway Patrol said they were not involved in the pursuit, but they were requested to assist with closing southbound I-35 and 7th Street. Troopers were also blocking the left of of northbound I-35 at 18th Street.  The highway reopened after 2:00 p.m. Thursday.
Emergency personnel performing CPR on person following chase on I-35. #fox4kc via @RCFOX4KC pic.twitter.com/t5UdIMzKCU

— Rob Collins (@RCFOX4KC) July 16, 2015
[protected-iframe id="5c5a22155f1d8b91993fc75556c5fcdc-28016812-78417489" info="https://www.google.com/maps/embed?pb=!1m18!1m12!1m3!1d3098.6282754246895!2d-94.64593959999993!3d39.04659410000001!2m3!1f0!2f0!3f0!3m2!1i1024!2i768!4f13.1!3m3!1m2!1s0x87c0ede21dc8a6e1%3A0x5f2c1ae6e2eab8e7!2s18th+St+Expy%2C+Kansas+City%2C+KS+66106!5e0!3m2!1sen!2sus!4v1437060121664" width="600" height="450" frameborder="0" style="border:0" allowfullscreen=""]