This is an archived article and the information in the article may be outdated. Please look at the time stamp on the story to see when it was last updated.
INDEPENDENCE, Mo. -- Prosecutors charged an Independence man with child abuse after he allegedly caused life-threatening injuries to a 1-year-old boy.
Court documents say Carlos E. Alaniz, 19, left the boy in critical condition after punching him at least six times in the torso because he wouldn't stop crying. Independence police went to Children's Mercy Hospital on Saturday after medical staff identified the injuries as child abuse.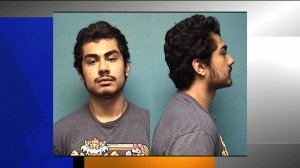 The 1-year-old victim lived with his mother and older brother in an Independence apartment, where the defendant also stayed.
Alaniz initially denied any wrongdoing, saying he witnessed the boy's mother trying to suffocate her son.
But court documents say Alaniz eventually admitted to investigators that he hurt the boy, saying the abuse began in the beginning of June. He added that the he would slap, hit and kick the boy in the head.
According to the court documents, Alaniz told police he abused the child because the "boy looked like his biological father and that Alaniz did not like the father very much."
He also said he hadn't told the boy's mother because he didn't want her to know he was "beating her kid up." Police said the woman was not home Saturday night during the alleged abuse.
The boy reportedly has a lacerated liver, broken ribs, and "brain slowing," which was from being kicked in the head by the defendant.
Alaniz is currently at the Jackson County jail. Prosecutors asked for a $100,000 cash bond.