This is an archived article and the information in the article may be outdated. Please look at the time stamp on the story to see when it was last updated.
KANSAS CITY, Mo. — A man critically injured in crash involving a car and Ride KC bus has died, officials say.
Dennis E. Schoellhorn, 56, was a passenger in a red Ford Fusion that was traveling southbound Friday on Charlotte Street when it was hit on the driver's side by a Ride KC bus that was headed westbound on 25th Street.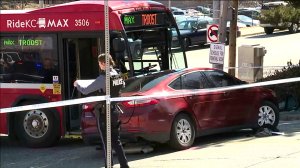 The Independence man, who was sitting behind the driver, was taken to a nearby hospital with critical injuries. He later died from his injuries.
More than a dozen other people were also taken to nearby hospitals. The adult female driver, a two-year-old child in the car, the bus driver and 10 bus passengers were taken to hospitals, but none of their injuries were considered life-threatening.
There's a sign at the intersection that says "cross traffic does not stop." Sources tell FOX 4 the sign would have given the bus the right-of-way.
Previous coverage: