This is an archived article and the information in the article may be outdated. Please look at the time stamp on the story to see when it was last updated.
INDEPENDENCE, Mo. — Prosecutors filed charges against an Independence man in connection with a deadly shooting that happened at a convenience store Saturday.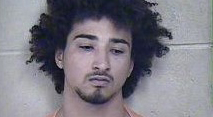 Marc A. Barron, 19, faces one count of second-degree murder and one count of armed criminal action in the shooting that killed Cahoone Littlejohn.
According to court documents, Independence police officers responded to the parking lot between the FavTrip Gas Station and A & M Cleaners on 23rd, between Ralston and Hardy Saturday afternoon. Littlejohn's girlfriend told investigators that Littlejohn almost struck Barron while backing up in the parking lot.  Then when Barron walked out of the convenience store, he and Littlejohn got into an argument.
Littlejohn told Barron to never touch his vehicle again, court documents say.
Barron told investigators that after a few punches were thrown and Littlejohn knocked out a tooth, he pulled out a gun and started shooting. Littlejohn died at the scene.
The shooting, involving more than a dozen shots, was captured on video.
The crime scene was just about 100 yards away from Rotary Park, which was full of kids, and just a bit further away was a skate park.
Prosecutors requested that Barron's bond be set at $500,000.