This is an archived article and the information in the article may be outdated. Please look at the time stamp on the story to see when it was last updated.
INDEPENDENCE, Mo. — A Independence mother is furious after kids were caught on video bullying and holding a gun to to her son's head.
Independence police have a 17-year-old and two minors in custody after a video showing someone pointing a gun at a 13-year-old circulated on social media.
The 17-year-old turn himself into police Tuesday. Detectives are questioning him and the others about the video.
The boy held at gunpoint was a 13-year-old boy in the seventh grade. His mother, Emily Bridges, said he's on the autism spectrum.
Bridges didn't know why her son Derrin came home with bruises on his face Saturday. She didn't get answers until her younger son showed her a video.
"I was hurt," Bridges said. "I was angry. I was crying. I was mad. I was upset because he didn't defend himself."
The video shows Derrin kneeling. Other kids are yelling at him to kiss their feet. They use racial slurs. And then, someone pulls out a gun and holds it against Derrin's head.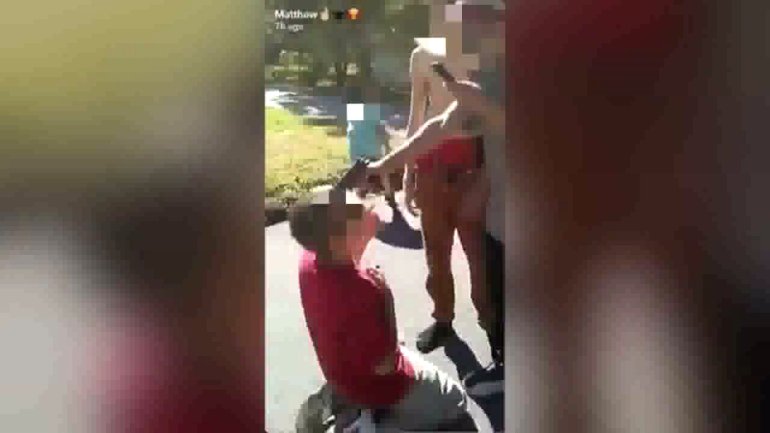 "It`s sad that other kids think it`s OK to treat people that way," Bridges said. "I don`t want my kids to treat people that way, and I don`t allow them to."
Bridges went to police Monday and said, at first, they didn't seem concerned about what happened to her son.
"He just really said that they're minors. There`s not a lot that happens to them," Bridges said. "They have to do community service. There's not a lot. I should just keep Derrin away from there and keep him at home."
But on Tuesday, Bridges went back to police looking for someone to take responsibility.
After the gun was pulled, another person in the video threw punches at Derrin. Bridges said the people who assaulted her son also stole money from him.
"I`m a parent and a mom, so I do feel bad for them to an extent," Bridges said. "I do think that all kids should suffer the consequences."
Bridges said her sons have been victims of violence before, and she wants other parents to step up.
"I think a lot of them don`t have parents that care," Bridges said. "Not that they don`t have them but just aren't around and don`t care."
The video of her son's assault made the rounds on social media. Bridges thanked the community for their concerns — and wants the video to send a message to other kids and teens.
"I hope the other kids see this and see that those actions and those behaviors are not OK," Bridges said.
Jospeh Lee,  the medical director at the Hazelden Betty Ford Foundation Youth Continuum, deals with youth bullying and said adults need to set a good example for acceptable behavior.
"As a child psychiatrist, I know that the impacts of this don't go away quickly," Lee said. "These situations can impact people for a lifetime. We have a responsibility to teach young people to treat other people as fellow human beings. It's obvious that we are failing them too often when it comes to situations like this."