This is an archived article and the information in the article may be outdated. Please look at the time stamp on the story to see when it was last updated.
INDEPENDENCE, Mo. — Officer Tom Wagstaff was shot and critically hurt on Wednesday morning while responding to a burglary, according to Independence police. He remains listed in critical condition as of Wednesday night following emergency surgery.
[protected-iframe id="7f7586fafa3566096e28c53096384bd7-28016812-38006261″ info="https://www.facebook.com/plugins/post.php?href=https%3A%2F%2Fwww.facebook.com%2Fipdinfo%2Fposts%2F1483787871654051&width=500″ width="500″ height="249″ frameborder="0″ style="border: none; overflow: hidden;" scrolling="no"]
"Centerpoint Medical Center has treated and admitted the Independence Police Officer who was involved in an incident this morning at 10 a.m. Following life saving surgery, he is in critical condition. Given that there is an ongoing police investigation, the family is asking for privacy at this time," a news release said.
According to a police source, Officer Wagstaff was shot in the head.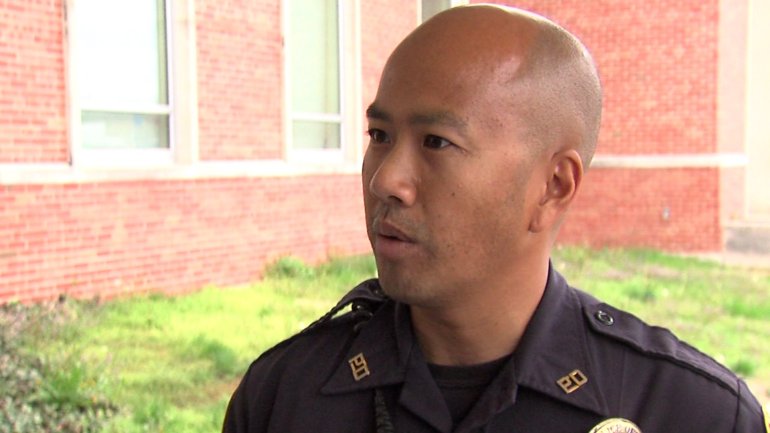 Dispatch reported the 'officer down' on South Delaware Avenue. Two suspects fled from the scene and a chase began. Police pursued the suspect vehicle, and it was stopped near 23rd and Maywood, about three miles away from where the officer was shot. The suspects were taken into custody near 23rd and Cedar, and at least one suspect was taken away by ambulance. They have not been identified yet.
"Upon their arrival, the suspects fled the scene and in doing so, fired and shot one officer. Officers returned fire. One officer was injured and taken to the hospital," said Capt. Carl Perry, Commander of Community Service Unit. "Your thoughts and prayers to be with the officer and the family would be appreciated."
Neighbors say the homeowner was in his house during the burglary and looked a bit battered and bruised when police escorted him out.
"I saw a gentleman in a red shirt being brought out of the house," said Kathryn Tempel, a neighbor. "Later I thought I saw him standing, talking to police, so I don't think he was the bad guy, I think he might have been the homeowner."
Tempel said when she heard the gunfire, she thought a transformer had blown.
FOX 4 will have live reports and team coverage during FOX 4 News at 9 and 10.